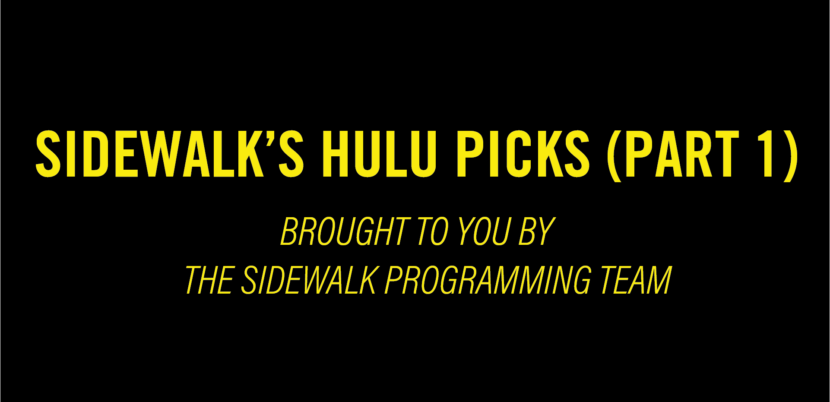 We miss you and though our doors are temporarily closed, we haven't stopped programming. We're excited to pass along themed programming selections and hope that such is helpful and brightens your day a bit. Plus we need to keep our programming skills in practice so that we can continue to bring stellar films and cinematic opportunities to Birmingham once we all get through this.
Below is a list of categorized film suggestions, this time available on Hulu (Round One), many with notes and some with additional resources, for your at-home film viewing. We hope that you enjoy the selections and would love to hear what you think via social media and/or email.
There are so many selections on Hulu that we are breaking our programming suggestions into two installments, this is the first. Stay tuned for Round 2! Interested in picks from Netflix? Visit our Netflix Picks Page. Don't have Hulu or Netflix? Stay tuned for our Amazon Prime Video picks.
The + means the film can be considered an indie.
The * means that the film is a festival selection.
The # means the film was a cinema selection,
The / means the writer and/or director was a Sidewalk Film Festival alum.
ON HULU – ROUND 1
Did You Miss It At The Sidewalk Film Festival?
These are just a few of our favorite options:
THREE IDENTICAL STRANGERS +*
Sidewalk 2018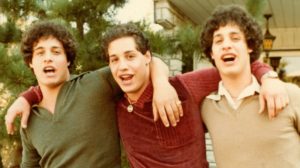 Illustrating that old adage that truth is stranger than fiction is this 2018 Sidewalk Film Festival selection that packed out the Alabama Theatre on a Saturday afternoon. Three identical triplets, separated at birth, discover each as young men and set out to discover why their existence was withheld from one another. The secrets they unearth are stunning, and won't be spoiled here.
For a little extra nostalgia here are the brothers on the TODAY show in 1981.
COLD CASE HAMMARSKJOLD +*#
Sidewalk 2019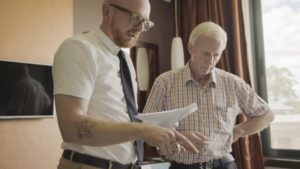 A 2019 Sidewalk Film Festival sensation, the conspiracy theory-packed documentary illuminates what might have been a shocking plot by white supremacist organizations to assassinate the Secretary-General of the United Nations and commit acts of genocide against black Africans. Completely convincing? That's up to the viewer. But director Mads Brugger makes some compelling arguments over the course of this wild, wild ride.
SUPPORT THE GIRLS +*
Sidewalk 2018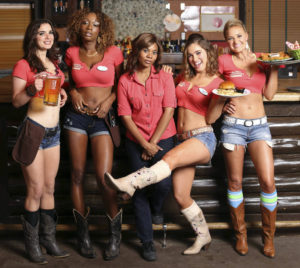 If you missed this at Sidewalk 2018, you missed one of the best films of that year, with an Oscar-worthy performance from Regina King. This beautiful comedy follows the beleaguered manager of a Hooters-style restaurant who tries to do right by the young women who work for her even in the face of obstacle after obstacle. The closest thing to a new Jonathan Demme movie we've gotten since the passing of that late great master director, SUPPORT THE GIRLS is lively, bright and funny in the most humanistic sort of way. We all have the food and beverage industry on our minds and in our hearts right now, so take a minute (or 93) for this inside glimpse. Produced by Alabama native Houston King!
THE NIGHTINGALE +*#
Sidewalk 2019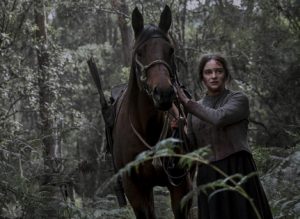 Sidewalk creative director Rachel Morgan's favorite film of 2019, and perhaps the programming staff's unanimous favorite feature at the 2019 Sidewalk Film Festival, Jennifer Kent's brutal historical revenge thriller is certainly not for the faint of heart. A young woman (Aisling Franciosa) in colonial Australia is brutalized by British soldiers in the most relentless and horrible way. After these soldiers visit an unspeakable tragedy upon her, she hires an aboriginal guide (Baykali Ganambarr) and enters the unforgiving bush to seek vengeance. Kent's masterwork is an examination of patriarchal violence, a criticism of colonialism and a meditation on the capacity for violence that lives within us all.
DAMSEL +*
Sidewalk 2018
In the mood for a dark deadpan comic Western with the whiniest Robert Pattinson performance you'll ever see? This Sidewalk alum from the Zellner brothers (who also directed previous Sidewalk films KID-THING and KUMIKO, THE TREASURE HUNTER— both also strongly recommended) follows Pattinson's lovelorn dandy as he attempts to traverse an unforgiving landscape in pursuit of his beloved (Mia Wasikowska). But not all is as it seems; the most remarkable thing about DAMSEL is its continual ability to flip the script of the standard Western, over and over again, until you just don't know what to expect.
Didn't get enough of R. Patt? Spend 24 hours with him.
Or Check out Robsessed, an R. Patt fan site.
THE REAGAN SHOW +*
Sidewalk 2017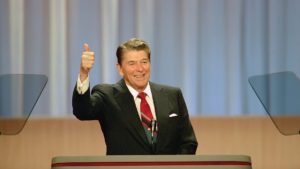 Skillfully and painstakingly comprised of archival footage, The Reagan Show is an eerily relevant peak behind the curtain of the media driven presidency of America's 40th, Ronald Reagan. The documentary quietly places a spotlight on how deeply the media savvy Reagan years informed all POTUS to-be. Captivating and at times surreal, THE REAGAN SHOW is insanely well crafted and is perhaps most impressive in its presentation of a sneakily clever commentary on the current state of the nation. THE REAGAN SHOW and MIKE WALLACE IS HERE would make a great double feature.
MIKE WALLACE IS HERE +*
Sidewalk 2019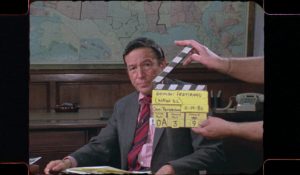 Beyond just a biopic focused on Mike Wallace (though that in itself would be captivating enough), MIKE WALLACE IS HERE conveys the broader story of television journalism through the ages, drawing a line showing how we got here. This is done not through contemporary traditional interviews, but via the careful curation and skillful editing of archival footage. All that said, the opportunity to witness Barbara Streisand call Mike Wallace a "son of a bitch" should be enough of a selling point! MIKE WALLACE IS HERE and THE REAGAN SHOW would make a great double feature.
Here's Wallace grilling Donald Trump.
Here he is smoking and interviewing Rod Serling.
LITTLE MEN +*
Sidewalk 2016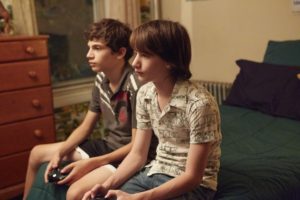 When 13-year-old Jake's family moves into an inherited Brooklyn home, Jake befriends Tony, whose single Chilean mother runs the outworn dressmaking shop downstairs. Tensions rise as Jake's parents attempt to raise the shop's rent in rapidly gentrifying Brooklyn. As their parents' feud escalates, the boys' friendship deepens. LITTLE MEN showcases the strength and love of childhood friendship, which shines brightly against the backdrop of adult pettiness.
COHERENCE +*
Sidewalk 2014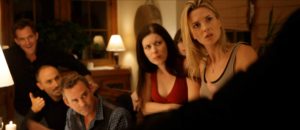 Do-it-yourself multiverse science fiction shot on a shoestring budget with a cast largely made up of unfamiliar faces. But the conceit is so ingenious that you'll instantly be absorbed by COHERENCE, which takes place at a dinner party where things get weird after a sudden astrological disturbance.
LOVE, GILDA +*
Sidewalk 2018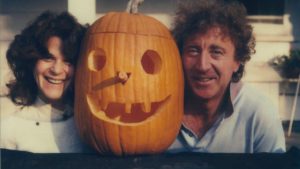 Almost thirty years after her untimely death, LOVE, GILDA skillfully constructs the cinematic biography of legendary comedian Gilda Radner via interviews, writings, home movies, and, most impressively, recently discovered audiotapes. Featuring interviews with Bill Hader, Amy Poehler, Maya Rudolph, Melissa McCarthy, Cecily Strong and more, LOVE, GILDA is a beautiful time capsule of a documentary. Hearing Radner reflect on her life in her own words and voice is a true privilege and watching her successors bask in the glow of Radner's writings is breathtaking.
Here's Gilda's SNL screen test.
TONI MORRISON: THE PIECES I AM +*
Sidewalk 2019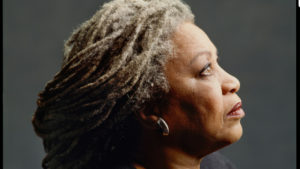 As the title suggests, beloved author (see what we did there?) Toni Morrison is the focus of this comprehensive documentary. The film traces Morrison's early years to present day, focusing on the most intriguing areas and experiences of Morrison's life. Built around an interview with the author, the film also includes dozens of interviews with Morrison's esteemed fans. Oprah confesses to being a Toni Morrison stalker; that alone should convince you.
Visit the Toni Morrison Society site for more resources.
LUCKY +*
Sidewalk 2017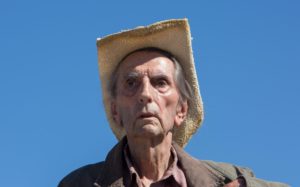 The final lead role from the great character actor Harry Dean Stanton, who here plays an irascible old coot perhaps unlike himself: a chain-smoker who does yoga and hangs out with David Lynch. What's not to love already?
Also take a look at Vanity Fair's "final toast" to the amazing Harry Dean Stanton.
THE OVERNIGHT +*
Sidewalk 2015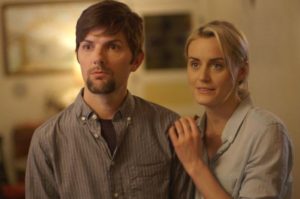 Alex and Emily are new to Los Angeles and caring for their small son leaves little room to make adult friends. By chance, they meet another couple, Kurt and Charlotte, in the park and the new friends invite the family over for dinner. But, as the night progresses, things take one bizarre turn after another, as Alex and Emily begin to suspect the other couple's true, potentially ulterior motivations. THE OVERNIGHT subverts the clichés of typical swinger sex comedies and is equal parts riotously funny and unpredictable.
GOLDEN EXITS +*
Sidewalk 2017
Director Alex Ross Perry is known for his dialogue-driven comedies, and Golden Exits doesn't disappoint. Nick and Alyssa's relationship has been frosty since an indiscretion by Nick, an archivist who works in the basement of their Brooklyn apartment. Enter Nick's new assistant, Naomi, an Australian student, with loose family ties to Buddy, a music producer in the same neighborhood. GOLDEN EXITS features an intriguing ensemble of familiar faces, including Beastie Boys' Adam Horovitz, Chloe Sevigny, Mary Louise Parker and Jason Schwartzman.
THE CLEANSE +*
Sidewalk 2016
Formally titled THE MASTER CLEANSE this creature feature won the 2016 Programmers Award. A group of strangers attending a spiritual retreat in the woods become emotionally attached to the toxins removed from their bodies. A transformation that begins with nauseous reactions to foreign herbal elixirs slowly turns each guest's deeply rooted psychological issues into cute pipe germ monsters – yep, oddly relevant. The range of reactions from each participant's experience is exhibited in their personally birthed creature. A rare indie creature feature with performances from Johnny Galecki, Anna Friel, Oliver Platt and the one and only Anjelica Huston.
THE GUILTY +*
Sidewalk 2018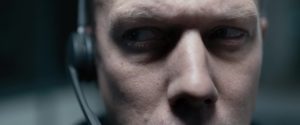 Demoted police officer Asger bides his time as an emergency dispatcher, begrudgingly fielding calls. As his shift nears its end a disturbing call comes in… As mystery unravels and complicates, the film not only questions the perception and subsequent actions of our main character, but also flips such ambiguity back on its audience. A one-location indie, virtually a one-hander and playing out in real time, The Guilty is an edge-of-the-seat, shockingly effective cinematic feat of a thriller.
Want A Challenge? We Dare You
Feeling the nihilism? If you can make it through the following 5-film line-up, all in the same week we will give you a major shout out (email rachel@sidewalkfest.com). Please note that we do not take responsibility for what might happen regarding your mental wellbeing at any point during this experiment.
…And we need to talk about this film. Amazing, but not kind + Tilda Swinton. That's all we're saying.
THE MOUNTAIN +*#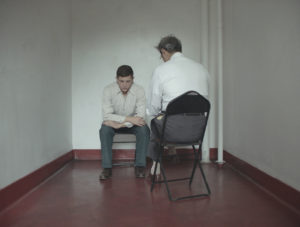 When discussing selecting this film for the Festival we compared it to opening a bag of rats on an audience. After the death of his father, a sexually confused young man (Tye Sheridan) takes a job as assistant to a doctor (Jeff Goldblum) peddling a controversial and out-of-date lobotomy procedure to asylums. As the two make their way across a colorless landscape, the film radically dismantles 1950s American nostalgia and any notion of the "good old days." Did I mention this was bleak? That's even before Denis Lavant shows up in a performance of genuine, unhinged madness. THE MOUNTAIN screened last year as an Official Selection of Sidewalk 2019.
BUFFALO '66 +/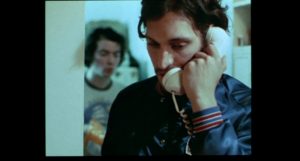 Co-written by Sidewalk alum Alison Bagnall, Vincent Gallo's BUFFALO 66 is a darker than night "love" (?) story. Cold in texture, tone and background, the film was one of the most unique of the late 1990's, highly influential and wholly original.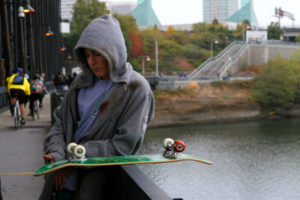 Written and directed by Gus Van Sant, this 2007 film was cast via a MySpace post. Told non-chronologically and poetically paced, it follows teenage skateboarder, Alex, who drifts in the shadow of a mysterious death.  A PARANOID PARK / SKATE KITCHEN double feature would also make for an interesting experience.
Here's a link to a visual essay regarding PARANOID PARK.
"I kind of can't tell what's real or a dream," says a young boy near the beginning of this misty, mysterious drama. He's on a road trip with his older brother, driving across upstate New York in the wake of a house fire and an undefined trauma. But not all is as it appears, and the lines between reality and delusion grow more difficult to define as dark secrets are revealed. THE STRANGE ONES was an Official Selection of Sidewalk 2017.
Underseen Gems
THE MYTH OF THE AMERICAN SLEEPOVER +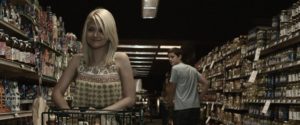 Before David Robert Mitchell broke out with his 2014 horror smash IT FOLLOWS and sent us all spiraling down a paranoid pop culture rabbit hole with last year's UNDER THE SILVER LAKE (another point of contention amongst Sidewalk programmers), he cut his teeth on this debut feature, a charming coming-of-age story about an interconnected group of teens searching for meaningful connections. A Gen-Z DAZED AND CONFUSED, you might call it.
COLOSSAL +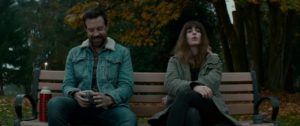 Anne Hathaway's alcoholism manifests as a fearsome kaiju attacking Tokyo in this bizarre, affecting genre hybrid with a truly insane premise. Moving back to her small hometown and finally hitting rock bottom, Hathaway's character discovers that every night she gets blackout drunk and walks through a nearby playground, a giant monster attacks Japan. What more can you say about that?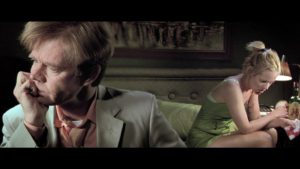 This film is way better than you think it's going to be. What's a cooler anyway? There's the type that cools a fight, like Swayze in ROADHOUSE, but in this case, urban legend has it, a cooler is someone who has and brings terrible luck and can spread that crap luck like a virus (see what we did there). Supposedly casinos employ these unfortunate folks and launch them on winners to, you know, cool their winning ways. In this case the cooler is Bernie played by William H. Macy and his luck is real bad… until it isn't. Take a staycation to Vegas and hang out with someone who has worse luck than you (maybe?).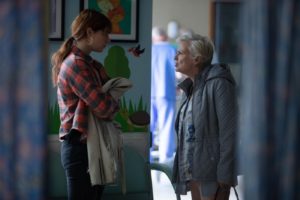 Not nearly enough people saw this wonderful musical drama last year about a young Irish woman (Jessie Buckley) who gets out of prison and is determined to pursue her dream of singing country music in Nashville at any cost — even once again abandoning her children, if that's what it takes. A lovely drama that avoids most of the pitfalls and embarrassing tropes of the "star is born" subgenre, WILD ROSE is elevated thanks to terrific work from Buckley (a star truly is born with her) and the legendary Julie Walters.
Did You Miss It At The Cinema?
These are just a few of our favorite options:
HONEYLAND +#
Nominated for two Oscars, HONEYLAND follows a Macedonian beekeeper living a simple, sustainable life whose world is threatened by the arrival of a migrant family looking to start their own beekeeping business in her remote area. Filled with startlingly beautiful camerawork, HONEYLAND is the sort of documentary that transports you to a world you never knew existed.
MONOS +*#
A 2019 Sidewalk Film Festival selection, this visually stunning drama tells the story of conscripted child soldiers holding an American hostage (Julianne Nicholson) in an outpost on a remote Colombian mountaintop. When things go a bit wrong for the soldiers, the kids go a bit Lord of the Flies — and the situation spirals even more out of control.

LUCE +#
One of the first films that we screened at the Cinema, LUCE is ambiguous, complex and provocative. Directed by Julius Onah, the film features praised performances by Kelvin Harrison Jr, Octavia Spencer Naomi Watts and Tim Roth. Sidewalk programmers disagree on this one and we'd love to know what you think.
Here's a brief, but interesting IndieWire article regarding the film.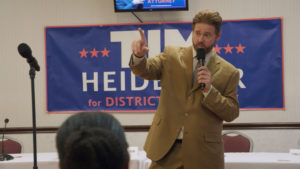 Tim Heidecker and Gregg Turkington have made an empire out of their Adult Swim-affiliated "On Cinema" shorts, and with this feature faux-documentary, they've made the crossover to the big screen in hilarious, cringe-inducing fashion. Heidecker plays an obnoxious version of himself who runs for district attorney in San Bernardino County after getting off on murder charges (it's a whole bit explained in the movie, and in an hours-long faux trial that aired online — which also comes recommended). The movie follows candidate Heidecker on his completely, obviously doomed race for office; it helps to be a fan with some familiarity of Heidecker and Turkington, but even if you aren't, I think it still translates pretty well.
If this is your thing and you don't already know about Tim Heidecker's YouTube channel check that out, including his ridiculous music video that many people can relate to right about now, "Work From Home."
Here's a link to the "trial."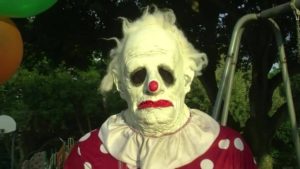 In Florida, urban legend has it that parents can call to enlist the services of the terrifying Wrinkles the Clown, who will show up to scare the daylights out of misbehaving children. But what's the truth behind the legend? This documentary digs into the story behind this contemporary boogeyman.
STAY TUNED FOR HULU ROUND 2!