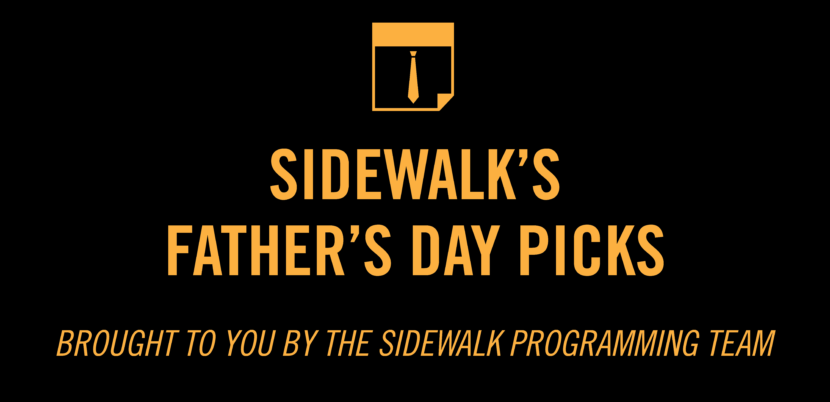 DAD MOVIES
It's Father's Day – Sidewalk programmers put together a list of suggested films to watch with your dad, help celebrate your dad, remember your dad, or perhaps just the opposite! We've included a few resources here and there as well. Happy Fathers Day.
Key:
The + means the film can be considered indie.
The * means that the film is a festival selection.
The # means the film was a cinema selection
The / means the writer and/or director was a Sidewalk Film Festival alum.
THE HEAVY HITTERS:
KRAMER VS KRAMER (1979)
The ultimate reluctant dad movie, KRAMER VS KRAMER is surprisingly complicated and, in many ways, as much about navigating the aftermath of a broken marriage as it is about parenting. KRAMER VS KRAMER was clearly a heavy influence on A MARRIAGE STORY (listed below). Starring Dustin Hoffman, Meryl Streep, and JoBeth Williams at her usual best in a memorable supporting role. "Ted Kramer's wife leaves him, allowing for a lost bond to be rediscovered between Ted and his son, Billy. But a heated custody battle ensues over the divorced couple's son, deepening the wounds left by the separation."
Watch On: Vudu, Amazon Prime, YouTube, iTunes, Google Play or dust off that VHS tape
MORRIS FROM AMERICA (2016) *+
An exploration of puppy love, single parenthood, and the kind of acute "otherness" that can only be experienced by a black American young man transplanted in an all-white German town. 13-year-old Morris' life revolves around his loving and playful father (Superstar Craig Robinson) and his hip-hop aspirations… that is until a beautiful girl takes him on a dizzying ride, landing him somewhere between lost and found. With breathtaking cinematography and characters that are complicated and flawed while remaining infectiously likable, MORRIS FROM AMERICA is a true feel-good film and features one of the best dads of the decade.
Watch On: Netflix, iTunes, Vudu, Amazon Prime, YouTube, Google Play
FORD V FERRARI
Less about focusing on a dad and more about being the ultimate stereotypical Dad Movie, FORD V FERRARI has cars and Italian cars, corporate interference, the laws of physics, a 24-hour car race and male bonding… and Christian Bale. Heavily based on a true story, the Ford Motor Company works to build a racecar that can win at the infamous Le Mans.  Check out this vintage footage from the 1966 Le Mans race: https://www.youtube.com/watch?v=AdpWTLB0Y4I
Watch On: Vudu, Google Play, YouTube, Amazon Prime
RAISING ARIZONA (1987) +
You know the story, H.I. (Nicolas Cage) wants to be a dad so badly that he steals a baby – how does RAISING ARIZONA not end up on a Fathers Day watch list!? "When a childless couple of an ex-con and an ex-cop decide to help themselves to one of another family's quintuplets, their lives become more complicated than they anticipated." Let's take a break for some bad parenting with this piece of trivia: Fifteen babies played the Arizona quintuplets in the film. One of the babies was fired during production when he learned to walk. The mother went so far as to put her baby's shoes on backwards in order to prevent him from walking.
A great little Mental Floss article on RAISING ARIZONA: https://www.mentalfloss.com/article/76329/10-law-abiding-facts-about-raising-arizona
Watch On: Hulu, Vudu, Google Play, Amazon Prime, iTunes
PAPER MOON (1973)
Well this gets a little complicated… "During the Great Depression, a con man finds himself saddled with a young girl who may or may not be his daughter, and the two forge an unlikely partnership." Ryan O'Neal plays Moses, the con man that becomes faux father to Addie, played by real-life daughter Tatum O'Neal, who won the Best Supporting Actress Academy Award for her performance at 10, making her the youngest person ever to win an Oscar. It's rumored that the shooting process on PAPER MOON was grueling and that Tatum O'Neal would often require 50 takes. It's also alleged that dad, Ryan, was incredibly jealous of Tatum's Oscar win. She's written an auto-biography calling him out for his alleged jerky ways and his quotes to the press about her are regularly cringe-worthy, all making PAPER MOON a family drama-fueled, complicated (on and off screen) dad time at the movies.
Watch On: Pluto TV, Google Play, Amazon Prime, iTunes, Vudu, YouTube
HEARTS BEAT LOUD (2018) *+
Nick Offerman plays a widower and career record storeowner whose daughter, played by the amazing Kiersy Clemons, is gearing up to start school across the country. After a song that they record as a goof goes viral, Offerman tries to persuade his daughter to form a band, both to satisfy a lifelong dream of his own and to hold on to the one lasting relationship in his life. Featuring extremely likeable original songs and a great supporting cast (Ted Danson plays a bartender!), HEARTS BEAT LOUD truly earns its reputation for being a heart-warming crowd pleaser.
Watch On: Hulu, Amazon Prime, Vudu, iTunes, YouTube, Google Play
INDIANA JONES AND THE LAST CRUSADE (1989)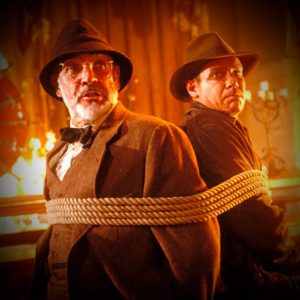 "After his father Professor Henry Jones, Sr. (Sean Connery) goes missing while pursuing the Holy Grail, Professor Henry "Indiana" Jones, Jr. (Harrison Ford) finds himself up against Adolf Hitler's Nazis again to stop them from obtaining its powers. When Sean Connery is dad to Harrison Ford and they fight Nazis, you better believe it's a Fathers Day recommendation. Cheers!
Watch On: Netflix, Amazon Prime, Vudu, iTunes, YouTube, Google Play
HE GOT GAME +
In Spike Lee's searing sports drama, a star high school basketball player (Ray Allen) must decide whether to commit to the NBA Draft or go to college. The pressure is compounded when his incarcerated father (Denzel Washington) is released to promote an agenda on behalf of the crooked governor. In typical Lee fashion, "He Got Game" is about a lot of stuff — but its heart is in the connection between these two men, climaxing in a one-on-one basketball game that sees the father finally release the burdens of his dreams to his son. It might be one of the more electric sequences in Lee's entire filmography.
Watch On: Hulu, HBO, Amazon Prime, Vudu, iTunes, YouTube, Google Play
FACE /OFF (1997)
Another it's-not-about-the-dad-it's-about-the-dad-movie selection, we'll use any excuse to include FACE/OFF on a rec list, but Fathers Day is clearly an easy justification. Sidewalk programmers are in support of any film that includes a "highly experimental face transplant", but when the faces we are talking about are those of John Travolta and Nicolas Cage, it's 100% on the list. Let's boil things down: "In order to foil a terrorist plot, an FBI agent undergoes facial transplant surgery and assumes the identity of a criminal mastermind, who murdered his only son. The plan turns sour when the criminal wakes up prematurely and seeks revenge." Our favorite behind the scenes pieces of trivia: "The crew shot on Nicolas Cage's birthday. John Woo let Cage get emotionally charged up for a scene, then surprised him with a birthday cake. Afterwards, Cage asked Woo not to do that again."
Watch On: Sling TV, Amazon Prime, Vudu, iTunes, YouTube, Google Play
ROLL BOUNCE (2005)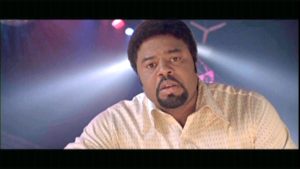 "In the summer of 1978, a teenager and his group of friends face new challenges when their neighborhood roller-skating rink closes, forcing them to visit a different rink." Xavier's mother has passed away, leaving father, Curtis, to raise Xavier and his sister, Sonya – the three help each other find their way after the loss.
Watch On: Amazon Prime, Vudu, iTunes, YouTube, Google Play
BOYZ N THE HOOD (1991) +#
Writer-director John Singleton's breakout first feature, BOYZ N THE HOOD lands on the Fathers Day list because of the unforgettable character Furious Styles (Laurence Fishburne). Wisdom-spouting dad time! The film "follows the lives of three young males living in the Crenshaw area of Los Angeles, dissecting questions of race, relationships, violence, and future prospects." Look at this cast: Angela Bassett, Ice Cube, Morris Chestnut, Cuba Gooding Jr., Nia Long, Regina King and, again, Laurence Fishburne.
Watch On: Hulu, Sling TV, Showtime, Amazon Prime, Vudu, iTunes, YouTube, Google Play
RED RIVER (1948)
We'll go old school with this pick, a classic Howard Hawks Western that finds a brewing conflict between John Wayne as a maniacal cattle driver pushing a herd of thousands of cattle from Texas to Kansas, and Montgomery Clift as the surrogate son who grows to object to the older man's domineering ways. As the tension grows, the clash between generations seems destined for an almost Biblical climax — and though Hawks' ending is pretty deflating, it suggests the transformative power of forgiveness and collaboration.
Watch On: Hulu, Sling TV, Starz, Amazon Prime, Vudu, iTunes, YouTube, Google Play
THE NOT SO OBVIOUS (AND NOT FOR EVERYONE)
THE ICE STORM (1997) +
While not seasonally appropriate, THE ICE STORM is one of the sweetest and saddest films about family disconnection and is also, in part, a meditation on the loss of innocence and the parental realization of such. An iconic scene in which father Ben Hood (Kevin Kline) carries his daughter Wendy (Christina Ricci) home will break your heart. "In suburban New Canaan, Connecticut, 1973, middle-class families experimenting with casual sex and substance abuse find their lives beyond their control." Gene Siskel selected THE ICE STORM as the best film of 1997.
Watch On: Amazon Prime, Vudu, iTunes, YouTube, Google Play
EAST OF EDEN (1955)
Directed by Elia Kazan, based on the novel by John Steinbeck and starring James Dean – "A wilful young man contends against his brother for the attention of their religious father while reconnecting with his estranged mother and falling for his brother's girlfriend." While watching EAST OF EDEN keep in mind that while shooting the Ferris wheel scene, in an effort to feel as uncomfortable as possible, James Dean refused to urinate the entire day. EAST OF EDEN is the only film that James Dean starred in that he personally viewed in its entirety, he passed away the same year the film was released.
Watch On: HBO, Amazon Prime, Vudu, iTunes, YouTube, Google Play
SAY ANYTHING (1989)
Man, oh man, is this dad misguided. While SAY ANYTHING is clearly more of a late-high school teen romance than a dad story, the father stuff is certainly the tie that binds. "A noble underachiever and a beautiful valedictorian fall in love the summer before she goes off to college" and a well-intentioned, but wrecking ball of a dad meddles, and meanders throughout. The films origin story: "Producer James L. Brooks said the movie was inspired when Brooks saw a man walking with his daughter, and wondered what would happen if the father committed a crime."
Watch On: Amazon Prime, Vudu, iTunes, YouTube, Google Play
THE ROYAL TENENBAUMS (2001) +
Wes Anderson's films are filled with complicated fathers or father figures, so most of his movies could theoretically show up on this list. But Gene Hackman's indelible Royal Tenenbaum — disgraced lawyer, Western novel enthusiast and exiled paterfamilias of a family of failed geniuses — clearly takes the top prize. As Royal tries to reconnect with his ex-wife (Anjelica Huston) and children (Ben Stiller, Luke Wilson and Gwyneth Paltrow) by faking a cancer diagnosis, the Tenenbaum family grapples with its legacy and once again find resilience and comfort in their neglected family ties. And Royal isn't an asshole — he's just kind of a son of a bitch.
Here's a great visual essay breaking down Margot Tenenbaums style: https://www.youtube.com/watch?v=qEzT8StSNi4
And for something more dad-like, there's a book "Bad Dads: Art Inspired by the Films of Wes Anderson": https://www.booksamillion.com/search?id=7925348608453&query=+Bad+Dads%3A+Art+Inspired+by+the+Films+of+Wes+Anderson&filter=
Watch On: Amazon Prime, Vudu, iTunes, YouTube, Google Play
MARRIAGE STORY (2019) +#
"Noah Baumbach's incisive and compassionate look at a marriage breaking up and a family staying together." Successful New York theater director Charlie Barber and his wife, actor Nicole Barber, split up and Nicole relocates with their son Henry to LA after landing a role in a TV pilot. The former couple attempt to navigate relationship fallout and parenthood from near and far.
Watch On: Netflix
RISKY BUSINESS (1983)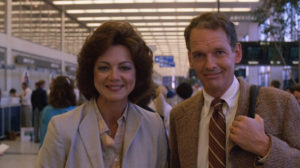 Anything with Thomas Cruise has dad vibes, but in this case, Mr. Cruise isn't the dad, he's the kid with a dad or, actually, temporarily without a dad as his parents are out of town which allows for Thomas Cruise level shenanigans. In this particular instance the folks being out of town means that you hire a sex worker and then parlay that into turning the parents house into a brothel. RISKY BUSINESS is as 1980's time capsule as you might think (or remember), but it's likely way edgier than your memory or imagination might conjure. Loaded with surface level symbolism, cringe-worthy inappropriateness, an amazing score and classic moments, RISKY BUSINESS is well worth a watch/re-watch and parenting and dad-isms are just heavy enough to make Fathers Day the perfect reason.
Watch On: Hulu, Cinemax, Amazon Prime, Vudu, iTunes, YouTube, Google Play
FOOTLOOSE (1984)
What do you do when your dad is the bible beating Rev. Shaw Moore who has made sure that partying, rock music and dancing has been outlined in the tiny farm town that you're stuck in? You hook up with the hot (?), rebellious, fearless new kid in town and dance your ass off of course. Of all the films on the list FOOTLOOSE might somehow be the one with the dad who has the most broad power (well except DEVILS ADVOCATE of course). We love a good small town, strict preacher dad turn-around story, but who doesn't?
Watch On: Amazon Prime, Vudu, iTunes, YouTube, Google Play
THE SUPER OBVIOUS
FATHER OF THE BRIDE (1991)
A remake of the 1950 film of the same name, but staring Steve Martin of course! "With his oldest daughter's wedding approaching, a father finds himself reluctant to let go." A classic.
Watch On: Hulu, TNT, TBS, Sling TV, Amazon Prime, Vudu, iTunes, YouTube, Google Play
NATIONAL LAMPOON'S VACATION (1983)
The classic of all classics. "The Griswold family's cross-country drive to the Walley World theme park proves to be much more arduous than they ever anticipated." A fun thing to watch for: At Walley World, Rusty (Anthony Michael Hall) is taller than mom, Ellen (Beverly D'Angelo) – that's because these scenes were shot 4 months after principal photography wrapped and Hall had grown three inches during the course of production.
Watch On: fuboTV, AMC, Amazon Prime, Vudu, iTunes, YouTube, Google Play
THE PURSUIT OF HAPPYNESS (2006)
In addition to Will Smith having major dad vibes just in general, THE PURSUIT OF HAPPYNESS might be the most dad movie of all time. "A struggling salesman takes custody of his son as he's poised to begin a life-changing professional career." Plus real life dad Will Smith plays dad to real life son Jaden Smith.
Watch On: Netflix, Amazon Prime, Vudu, iTunes, YouTube, Google Play
FIELD OF DREAMS (1989)
If THE PURSUIT OF HAPPYNESS isn't the most dad movie of all time then FIELD OF DREAMS definitely is. "An Iowa corn farmer, hearing voices, interprets them as a command to build a baseball diamond in his fields; he does, and the 1919 Chicago White Sox come." Of course Iowa corn farmer is played by dad face Kevin Costner. If you're up for a summer road trip you can visit the baseball field and farmhouse from FiELD OF DREAMS in Dyersville, Iowa. If you want to take a quick, virtual trip, there's a web cam: https://fieldofdreamsmoviesite.com/field-cam/
Watch On: Hulu, Starz, SlingTV, Amazon Prime, Vudu, iTunes, YouTube, Google Play
TAKEN  (2008)
Fighter dad time! "If you let my daughter go now, that'll be the end of it. I will not look for you, I will not pursue you. But if you don't: I will look for you. I will find you. And I will kill you." Dang.  Massive testosterone dad time. "A retired CIA agent travels across Europe and relies on his old skills to save his estranged daughter, who has been kidnapped while on a trip to Paris."
Watch On: Amazon Prime, Vudu, iTunes, YouTube, Google Play
IF YOU'RE WITHOUT YOUR DAD
THE CAT AND THE MOON (2019) +*
Written and directed by HEREDITARY star Alex Wolff, teenager Nick temporarily relocates to New York to stay with his late fathers former band mate, Cal, while his mom is in rehab. During his stay, Nick makes new friends who show him what the city has to offer. Dealing with mental issues of his own, Nick quickly finds himself struggling to cope. A beautiful and at times tragic story, the film shows the complexities of teenage life in NYC.
Watch On: Vudu, Google Play, Amazon Prime, YouTube
WILLY WONKA & THE CHOCOLATE FACTORY (1971)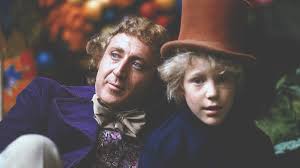 We're not exactly sure what's going on with Charlie's home life or why so many people are piled in one bed all dang day while Charlie's mom stirs a cauldron of soup, but we do know that Charlie's dad isn't around. It's also pretty convenient that Grandpa Joe can suddenly walk when there's a chance to visit the Chocolate Factory. Plus Wonka is possibly the most intense king of punishment and none of that dads in the film are very good at parenting, so all around there's some pretty off the rails level dad stuff going down. You know the story: A poor but hopeful boy seeks one of the five coveted golden tickets that will send him on a tour of Willy Wonka's mysterious chocolate factory. Here's a "where are they now" article on the kids in WILLY WONKA: https://www.insider.com/willy-wonka-chocolate-factory-then-and-now-2016-8#many-members-of-the-cast-have-gotten-together-to-celebrate-the-movie-here-are-the-five-kids-celebrating-the-films-30th-anniversary-2
Watch On: Netflix, iTunes, Vudu, Google Play, Amazon Prime, YouTube
OBVIOUS CHILD (2014) +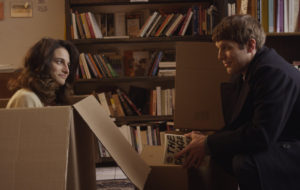 When you're straight up not ready or don't want to be a dad (or a mom)… Directed by Gillian Robespierre and featuring Jenny Slate, OBVIOUS CHILD premiered at the 2014 Sundance Film Festival and was the talk of the 2014 festival circuit.
Watch On: Netflix, iTunes, Vudu, Google Play, Amazon Prime, YouTube
HUGO (2011)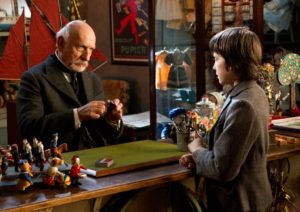 "In 1931 Paris, an orphan living in the walls of a train station gets wrapped up in a mystery involving his late father and an automaton." HUGO also gloriously celebrates the father of all – the father of motion pictures, Georges Méliès. Here's a fun, quick article about Méliès: https://www.mentalfloss.com/article/72124/5-pioneering-facts-about-georges-melies
Watch On: Netflix, iTunes, Vudu, Google Play, Amazon Prime, YouTube
TREE OF LIFE (2011) +
Perhaps the most existential choice on the list (and the most Brad Pitt), "The story of a family in Waco, Texas in 1956. The eldest son witnesses the loss of innocence and struggles with his parents' conflicting teachings."
Watch On: Hulu, HBO, iTunes, Vudu, Google Play, Amazon Prime, YouTube
LUCKY (2017) +*
The amazing Harry Dean Stanton's final role and in so many ways his swan song via a film. It's dad vibes all around, but also so much more. "Lucky follows the spiritual journey of a 90-year-old atheist and the quirky characters that inhabit his off the map desert town."
Watch On: Hulu, Vudu, Google Play, Amazon Prime, YouTube
JOSHUA (2007)
"The arrival of a newborn girl causes the gradual disintegration of the Cairn family; particularly for 9-year-old Joshua, an eccentric boy whose proper upbringing and refined tastes both take a sinister turn." Boy oh boy does dad Brad Cairn (Sam Rockwell) really try…
Watch On: Hulu, Vudu, Google Play, Amazon Prime, YouTube, iTunes
THE STEPFATHER (1987)
This is a bit of a step in a different direction, but fitting for some. "After murdering his entire family, a man marries a widow with a teenage daughter in another town and prepares to do it all over again." Yep. Happy Fathers Day.
Watch On: Tubi, Vudu, Google Play, Amazon Prime, YouTube
YOU THOUGHT YOUR FATHER WAS AWFUL
HONEY BOY (2019) +#
Directed by Alma Har'el, "A view of a young actor's stormy childhood and early adult years as he struggles to reconcile with his father and deal with his mental health." It doesn't get much more dad than this: HONEY BOY is Shia LaBeouf's mostly autobiographical feature, in which the focus is on his tumultuous relationship with his father and subsequent struggles with addiction. Shia plays his own father, James (in real life Jeffrey).
Watch On: Amazon Prime
STAR WARS: EPISODE V – THE EMPIRE STRIKES BACK (1980)
Worst dad ever? "After the Rebels are brutally overpowered by the Empire on the ice planet Hoth, Luke Skywalker begins Jedi training with Yoda, while his friends are pursued by Darth Vader and a bounty hunter named Boba Fett all over the galaxy."
Watch On: Disney+, Vudu, Google Play, Amazon Prime, YouTube, iTunes
THERE WILL BE BLOOD (2007) +
It's arguable that Daniel Plainview might actually be a worse dad than Darth Vader, he's certainly equally intense. "A story of family, religion, hatred, oil and madness, focusing on a turn-of-the-century prospector in the early days of the business." Suggested pairing with a milkshake and this article: https://www.mentalfloss.com/article/526144/15-surprising-facts-about-there-will-be-blood
Watch On: Netflix, Vudu, Google Play, Amazon Prime, YouTube, iTunes
THE WRESTLER (2008) +
An end-of-the-line professional wrestler and deadbeat dad, Randy "The Ram" Robinson, "must retire, but finds his quest for a new life outside the ring a dispiriting struggle." Mickey Rourke as a faded pro-wrestler = must see.
Watch On: Vudu, Google Play, Amazon Prime, YouTube, iTunes
MATILDA (1996)
Danny DeVito villain dad! "The story of a wonderful little girl, who happens to be a genius, and her wonderful teacher vs. the worst parents ever and the worst school principal imaginable."
Watch On: Vudu, Google Play, Amazon Prime, YouTube, iTunes
THE SHINING (1980)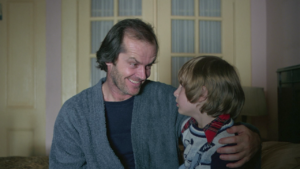 THE SHINING needs no summary or explanation. Happy Fathers Day!
25 "fun facts": https://www.mentalfloss.com/article/55893/25-things-you-might-not-know-about-shining
You can also watch (for free, online) the terrific 35-minute documentary on the making of THE SHINING, directed by Stanley Kubrick's then 17-year-old daughter Vivian Kubrick: https://www.dailymotion.com/video/xkq12a
Watch On: Vudu, Google Play, Amazon Prime, YouTube, iTunes
THE DEVIL'S ADVOCATE (1997)
Okay, okay, this is definitely the worst dad in the list. "An exceptionally adept Florida lawyer is offered a job at a high-end New York City law firm with a high-end boss – the biggest opportunity of his career to date."
Watch On: HBO, Vudu, Amazon Prime, YouTube, iTunes
TWIN PEAKS FIRE WALK WITH ME (1992) #
Yikes, there's a lot to unpack here. There's also a COVID-19 era-appropriate hand washing scene that makes Fathers Day 2020 the perfect year for the madness that is TWIN PEAKS FIRE WALK WITH ME.
Watch On: Criterion Channel, HBO, Vudu, Amazon Prime, YouTube, iTunes, Google Play