The 25th Annual Sidewalk Film Festival will take place August 21st – 27th, 2023 in Downtown Birmingham's Historic Theatre District.
The 25th Annual Sidewalk Film Festival presented by Regions Bank is returning with a festival footprint that includes the Sidewalk Film Center and Cinema, the Alabama Theatre, the Lyric Theatre, The Kress Building Ballroom,  First Church Birmingham, the Alabama School of Fine Arts Dorothy Jemison Day Theatre, Recital Hall and Lecture Hall as well as the Steiner Auditorium at the Birmingham Museum of Art.
Festival Box Office + Event Policies
The Main Box Office location will be announced soon. VIP passes are available for pick-up at the Main Box Office only. Festival-goers can pick up will-call tickets or make ticket purchases at the Main Box Office throughout the week or at any of the satellite box offices Saturday and Sunday.
Main Box Office Hours
11am – 7pm (M – Th)
11am – 9pm (Fri)
9am – 9pm (Sat-Sun)
Satellite Box Office Locations
Alabama School of Fine Arts
1800 Reverend Abraham Woods Jr. Blvd.
Alabama Theatre
Contact the Box Office
Box Office Policies
No refunds or exchanges except in rare cases of program

cancellations.

Premium single tickets are guaranteed seating and are admitted to all screenings first, followed by lanyard bearers, pass holders, then single ticket holders.

General admission single tickets, passes and VIP lanyards do NOT guarantee seating to specific films. VIP lanyards are nontransferable.

Please arrive early to the films you are most interested in to secure a seat.

Please silence all mobile phones and other devices.

Festival schedule and appearances are subject to change.

No outside food or drink of any kind.

Recording devices are not permitted.

Most indie films have not been rated. Proceed with caution.

Festival schedule and appearances are subject to change.
Photography/Recording Notice: Official Sidewalk Photographers will be taking photographs and/or video at any and all venues and events in the Sidewalk Film Festival footprint throughout the duration of the festival. By taking part in this event, you grant Sidewalk Film Festival the right to release, publish, exhibit, or reproduce any photographs or video recordings for advertising, promotional purposes, inclusion on Sidewalk websites or social media, or in any other context intended to promote the Sidewalk Film Festival or Sidewalk Film Center and Cinema. You waive all rights to claims for payment or royalties in connection with the publication of any of these materials and release Sidewalk Film Festival and its officers, employees, and affiliated photographers/videographers from any liability connected with these materials. This consent, waiver, and release extends throughout the universe in perpetuity.
Please email tickets@sidewalkfest.com with any questions.
Travel / Getting Around
Traveling to Sidewalk? Check out our partner hotels. Book quickly! Only a limited number of rooms are available at a discounted rate. We can't wait to see you in the Magic City!
Flying to Sidewalk? Here is the link to BHM
Parking
Street Parking is available throughout the Festival footprint and is FREE after 5pm weekdays and all day/evening on Saturday and Sunday.
Surface Lot and Garage Parking is also widely available throughout the Festival footprint but rates and terms vary. Check out this handy resource for detailed information about lot/garage parking in the area.
Shuttles
Complimentary shuttle service is provided between the south end of the festival footprint (Sidewalk Cinema) and the north end (Birmingham Museum of Art/ASFA). Three shuttles will run continuously from 10 a.m. to 12 a.m. Saturday, Aug. 26, and 10 a.m.-9 p.m. Sunday, Aug. 27,
Help!
For emergencies: Call 911.
For general Sidewalk-related questions, talk to anyone wearing a Sidewalk volunteer crew T-shirt.
For other assistance, call CAP Downtown (205-251-0111). Available from noon until midnight over the weekend, CAP safety ambassadors will help with non-emergency situations like providing directions or a secure walk to your car. CAP safety ambassadors wear a bright blue polo.
Festival Map
This year's Festival map will be published here soon.
How to Plan Your Schedule
We will screen more than 250 films at this year's Festival, and since it is impossible to see them all we receive lots of questions about how to make the most of the Festival schedule. We encourage every Festival attendee to use our online schedule to plan their Festival week, which could include films, educational opportunities,  and filmmaker Q & A's. We'll be adding events to our schedule through August 19 so be sure to visit the schedule often and look for new additions.
We offer a robust, interactive schedule on our website, in app form, and integrated with Google Calendar/Outlook/iCal.
New to Sched?
Here are a few tips and tricks we think will be helpful for planning your festival experience! Special thanks to Sched for providing these tutorials.
View Session Details
View the full schedule and hover over a session title for details or click through to the sessions details.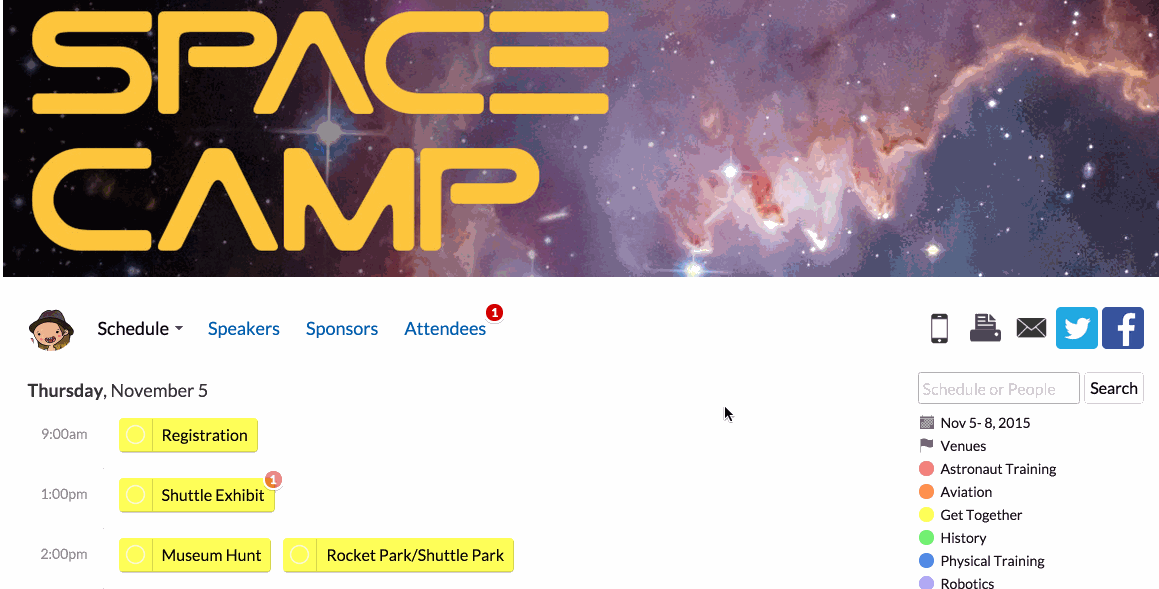 If you're looking for a specific session, use the search bar or filter the schedule by color-coded type.

Add and Remove Sessions from Your Schedule
Click the circle next to the session's name to make a personal schedule of what you're looking forward to. Click the checkmark again to remove the session from your schedule.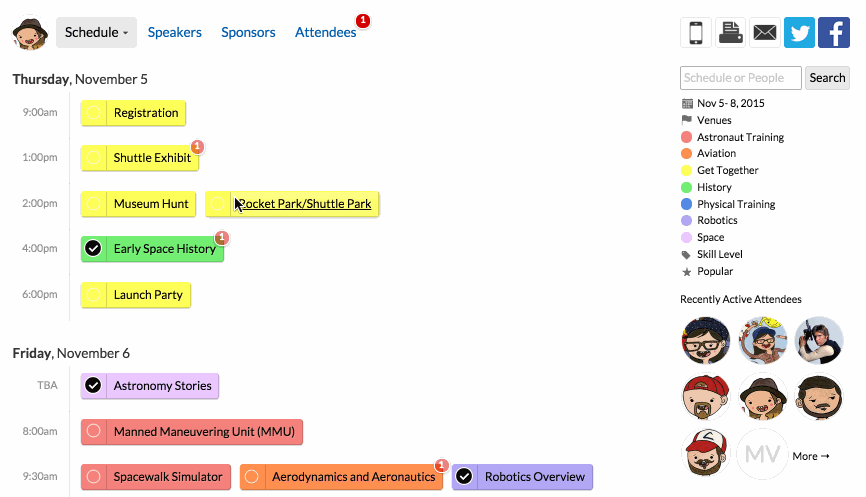 View Personal Schedule
Click your profile picture at any time to get back to your personal schedule.


Mobile Web App
View the Sched site in any mobile browser and you will automatically be served the mobile-optimized version. You can save a shortcut on your home screen.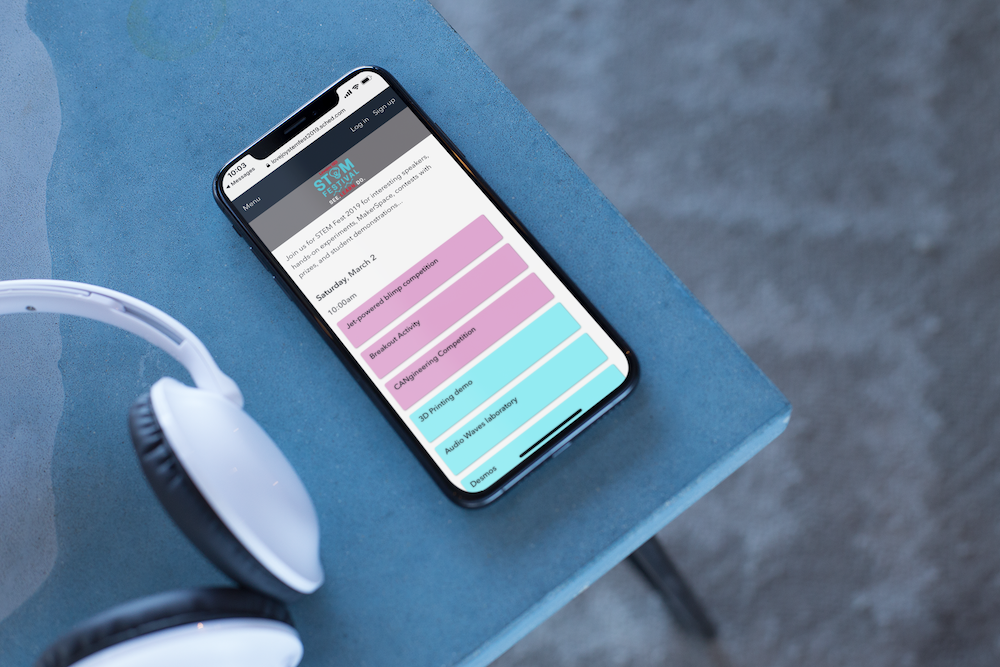 What to Bring to the Fest
Every year we receive lots of questions about what to bring or not to bring to the Festival and every year we add a few suggestions to the list. This year is no exception.
Everyone should bring an open mind and an adventurous spirit.
We also recommend bringing sunglasses, umbrella/raincoat, and wearing comfortable shoes.
A debit/credit card (some nearby restaurants/vendors will be cashless due to COVID-19).
Please don't bring: Bad attitudes, Weapons of any kind, Drugs
Food and Drink
Food Trucks
A variety of food trucks will be on-site for this year's Festival, parked near the Alabama School of Fine Arts.
Fast Casual Dining:
For varied, relatively fast options:
The Pizitz Food Hal
l (directly above the Sidewalk Cinema):  houses more than a dozen unique restaurants serving options like burgers, poké, tacos, and more.
Coffee Shops and Cafes:
Revelator Coffee Company
Full-Service Restaurants
Grocery and Basics
Publix Super Market at 20 Midtown You can find essentials like basic pharmacy items, as well as groceries, take-away food options, beer and wine.
Digital Balloting
We are moving our audience ballot process to a digital format. You will have information on the pass you receive upon entering the festival to access the digital ballot for the screening you are attending. Simply submit your vote at the conclusion of your screening/s and then plan to join us for the award show on Sunday, August 27 at 9pm at the Lyric Theatre.