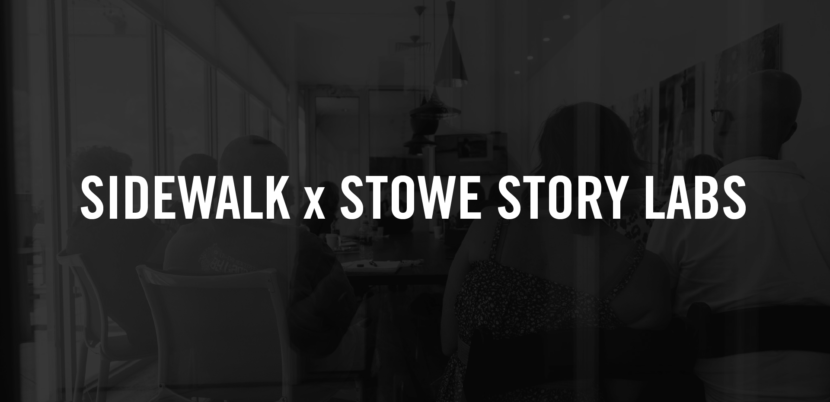 Sidewalk is pleased to partner with Vermont-based non-profit Stowe Story Labs to offer the third annual Sidewalk/Stowe Narrative Lab from August 25-28 during the 23rd Annual Sidewalk Film Festival. This will be a remote program, making it easily accessible to all. Application season is now open for all 2021 Stowe Story Labs programming. Apply here for the 2021 Sidewalk Narrative Lab. Now in their 9th year, Stowe Story Labs brings screenwriters, filmmakers, and creative producers together with seasoned industry professionals through intensive labs and expansive retreats to help get projects made and seen.
This four-day remote Sidewalk Lab is an intensive program to introduce writers to key considerations when building work for the big or small screen. The aim of this Narrative Lab is to prepare participants to best place themselves and their projects in the film industry in partnership with our diverse, electric film festival in the South.
Sessions will focus on:
The narrative elements of structure, theme, and subtext
Practical, usable advice on how to talk about story within the industry and to different audiences (financiers, producers, talent, etc.)
The story development and production processes
Why This Story? – meaning why you need to make this story now and developing an innate ability to talk about your project in any setting, at any time
Mentors are top industry professionals working on all aspects of film and TV projects. For a roster of current Stowe Story Labs mentors, please click here.
This program is suitable for established and emerging screenwriters, filmmakers, and creative producers. For each Lab, the team looks for applicants who demonstrate talent, an interesting story idea, and a commitment to learning skills necessary to get work made and seen in this complex and collaborative industry.
Again, you can apply now here for all Stowe programs, including the remote Sidewalk Lab, and learn more about Stowe here.
We're also pleased to offer a fellowship to this year's lab. On top of free admission to the lab, the fellowship would also include:
All applicants to the Sidewalk Lab are automatically considered for this fellowship. Applications close 2/28.