Women In Film Week puts the spotlight on female filmmakers. In this inaugural year, we are focusing specifically on female directors and writers.
As is reflected in the 2020 Academy Award Best Director nominations, there exist clear barriers for women in the film industry. Such is true historically and remains today. Despite the odds, women manage to consistently innovate film art. At our annual film festival and throughout the year at the Sidewalk Cinema we seek out interesting, innovative, important cinematic works that are directed, written, edited and/or lensed by women and we wanted to put a specific, singular focus on such annually at the Cinema. Therefore, we have launched Women In Film Week and are excited about our inaugural line-up.
Here are a few words from our programmers about our selections:
PORTRAIT OF A LADY ON FIRE
Arguably the best film of the year – written and directed by Céline Sciamma.
Marianne is commissioned to paint the wedding portrait of reluctant Héloïse, the appointment is more of an undertaking than Marianne anticipated, her and Héloïse get to know one another throughout the process and, eventually, start hardcore crushing. It's 18th century France though and Héloïse is about to get arranged married, both of which really complicate things… to say the least.
Featuring gorgeous cinematography, immaculate direction, and flawless performances, we've been waiting for more than half a year to program this one and are intensely proud to land it with perfect timing during Women In Film Week. This film will change your life.
PORTRAIT OF A LADY ON FIRE won the Queer Palm at Cannes, it is the first film directed by a woman to win the award.
THE FITS
In Anna Rose Holmer's feature film debut, 11-year-old Toni stumbles upon a rec center dance team and is drawn to join. Her arrival marks the start of the team's strange fainting spells and violent fits. Dreamy and mysterious, THE FITS, is a poetic, surreal exploration of femininity. Holmer recruited real-life, Cincinnati-based drill-dance team, Q-Kidz, for the film, including lead heroine Royalty Hightower – the team was provided part ownership of the film. We couldn't resist an opportunity to project THE FITS on the big screen with all of its perplexity and enchantment.
NIGHT CATCHES US
Ex-Black Panther, Marcus, returns to the racially divided Philadelphia neighborhood for his reverend father's funeral. Having been accused of being an informant in regards to the slaying of a fellow Panter, Marcus grapples with place and past.
10 years in the making, writer-director Tanya Hamilton combined historical facts with creative liberty to develop NIGHT CATCHES US. The film premiered at the 2010 Sundance Film Festival and the same year was an Indiewire Critics' Poll nominee, Gotham Awards nominee and a 2011 Film Independent Spirit Awards nominee, Alliance of Women Film Journalists nominee and NAACP Image Awards nominee in multiple categories.
HALF THE PICTURE
This documentary lays out the fact that straight-up women in the film industry are not offered equal opportunities as compared to their male counterparts. Featuring interviews with Ava DuVernay, Catherine Hardwicke, Brenda Chapman, Caroline Libresco, Jamie Babbit, Rosanna Arquette, Kimberly Peirce, Lena Dunham, Martha Coolidge, Lynn Shelton, Penelope Spheeris and more… damn. HALF THE PICTURE is directed by Amy Adrion and premiered at the 2018 Sundance Film Festival.
GIRLS TRIP, BRIDESMAIDS and ROUGH NIGHT
Friday night, March 13th we wanted to celebrate female friendship and put together a super fun "best friend" triple feature with heavy-hitters GIRLS TRIP, BRIDESMAIDS and ROUGH NIGHT.
Written by Erica Rivinoja, Kenya Barris & Tracy Oliver, GIRLS TRIP is the first film produced, written, directed by and starring African-Americans to cross the $100-million mark.
Four longtime friends travel to New Orleans for the annual Essence Festival and it gets crazy.
While female-led comedies are consistently considered risky financial endeavors, BRIDESMAIDS is the most financially successful Judd Apatow production. Written by Kristen Wiig and Annie Mumolo, BRIDESMAIDS was a game-changer in regards to the successful financing of future female-led comedies. It's also really fun to watch and consider this, Melissa McCarthy based the look and characterization of Megan in part on Guy Fier. A maid of honor and a bridesmaid compete for the attention of their mutual BFF and it's freaking hilarious.
Directed and co-written by Lucia Aniello, ROUGH NIGHT joins the forces of Jillian Bell, Scarlett Johansson, Zoë Kravitz, Ilana Glazer, and Kate McKinnon. Daaaaang.
A well-intended Miami bachelor party goes way, way, way off the rails with the appearance of a male stripper.
The focus of all films in the triple feature is on the importance and weight of friendship and the acknowledgment that women should have each other's backs. All three films are super fun to watch with an audience and we're excited to bring them back to the big screen and celebrate all the women who made these re-watch worthy films possible and special.
BOOKSMART
Turning the focus again to the importance of friendship and the intricacies of such, BOOKSMART is sharp, hilarious, honest, bright and, above all else, fun as hell. One of the greatest buddy comedies of all time, Olivia Wilde's critically acclaimed directorial debut was written by Emily Halpern, Sarah Haskins, Susanna Fogel, and Katie Silberman.
After four years of academic excess, over-achieving besties Amy and Molly decide to finally throw down on the eve of their high school graduation and chaos ensues. We wanted to be sure to include a film that places the focus on young women and BOOKSMART perfectly captures the magic, surprise and exciting uncertainty of a late high school evening out.
Without a doubt, BOOKSMART should have received an Academy Best Director nomination.
WANDA
Written, directed and starring Barbara Loden, WANDA is an impressive accomplishment. Shot on location in eastern Pennsylvania and Connecticut with a tiny crew of seven people (sometimes as few as four) and featuring a great deal of improvised dialogue and numerous non-actors, WANDA is a unique, innovative, complex feminist masterpiece. The film is Loden's directorial debut and her only feature works.
Overlooked upon its release and virtually forgotten for decades, the last few years have seen masterwork, WANDA, begin to acquire the recognition that it deserves. Including the 2017 selected for preservation in the U.S. National Film Registry by the Library of Congress and a new restoration (completed in 2018) followed by a weeklong run at the Metrograph theatre in New York.
Barbara Loden once wrote, "I tried to be independent and to create my own way. Otherwise, I would have become like Wanda, all my life just floating around." WANDA is a hardworking product of that deliberate independence.
After leaving her job and her husband and relinquishing custody of her children, Wanda Goronski splits town. After a number of unfortunate run-ins, Wanda finds herself on the run with a volatile bank robber.
BUFFALOED
We're excited to screen Tanya Wexler's so-called "late-capitalism comedy", BUFFALOED, as part of Women In Film Week. Starring Zoey Deutch, the film premiered at the 2019 Tribeca Film Festival and is currently in theatrical release. In an effort to pay for Ivy League tuition, Peg gets involved the shady debt collection underworld.
VARDA BY AGNÈS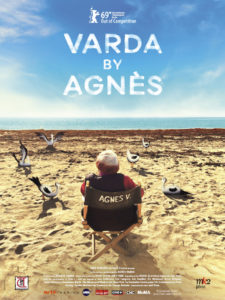 Pioneering feminist French film director Agnès Varda passed away last March. Among many things, her work was highly influential in the French New Wave movement. In VARDA BY AGNÈS, Varda, herself, uses photos and film excerpts to reflect on her career. We are honored to celebrate her great work.