Stuck at home for reasons other than a pandemic? Here are a few apropos snow day cinematic programming suggestions via the Sidewalk Cinema/Film Festival and creative director, Rachel Morgan
Classic Snow Day Selects
THE THING (1982) 
Director: John Carpenter
THE THING is about as winter as it gets. Plus, Kurt Russell's beard is something to be seen. 
It's Antarctica and there's a shape-shifting alien that assumes the appearance of its victims. Fun. 
Watch On: Amazon (paid), iTunes, Google Play 
Note: The 2011 remake is available via HBO 
PRAIRE LOVE (2011)
Director: Dusty Bias
A 2011 Sidewalk select by alum (and Alabama filmmaker) Dusty Bias. 
PRAIRIE LOVE is a gorgeous and Coen-inspired deep winter thriller. 
"Three lost souls look for love on the North Dakota tundra."
Watch On: Tubi
THE ICE STORM (1997)
Director: Ang Lee
This classic, Ang Lee period piece is covered in snow and pitch-perfect production design. Beware, this one is a gut punch. 
A look at a suburban Connecticut middle-class family in the era of the 1970s'.
Watch On: Amazon, YouTube, iTunes
HANNA (2011)
Director: Joe Wright
Featuring a very young Saoirse Ronan and an always amazing Cate Blanchett! It's rural northern Finland and it's snowy and cold. 
"A sixteen-year-old girl who was raised by her father to be the perfect assassin is dispatched on a mission across Europe, tracked by a ruthless intelligence agent and her operatives."
Watch On: Peacock, YouTube, iTunes, Google Play
ATOMIC BLONDE (2017)
Featuring a cold winter look and a ton of bisexual lighting, plus it takes place during the Cold War and is straight-up cold. Did I mention Charlize Theron?! ATOMIC BLONDE is notorious for its super-long take action scene, digitally made possible, but still noteworthy. 
"An undercover MI6 agent is sent to Berlin during the Cold War to investigate the murder of a fellow agent and recover a missing list of double agents."
Watch On: Hulu, Sling TV, YouTube, Google Play
A SIMPLE PLAN (1998)
Director: Sam Raimi
Another Coen-inspired cold one via Sam Raimi, A SIMPLE PLAN is surprisingly good. If this synopsis doesn't prove that it's Coen Bros inspired, I don't know what would: "Three blue-collar acquaintances come across millions of dollars in lost cash and make a plan to keep their find from the authorities, but it isn't long before complications and mistrust weave their way into the plan."
Watch On: Amazon Prime, Pluto, YouTube, Google Play
THE HATEFUL EIGHT (2015)
Director: Quentin Tarantino
It's cold and you're stuck inside with Kurt Russell, Jennifer Jason Leigh, Samuel L. Jackson, and Bruce Dern, but don't worry Tarantino keeps it entertaining. 
"In the dead of a Wyoming winter, a bounty hunter and his prisoner find shelter in a cabin currently inhabited by a collection of nefarious characters." 
This one will burn up almost 3 hours of your snow day/night. 
Watch On: Netflix, Amazon
CAROL (2015)
Director: Todd Haynes
Any excuse to put this masterwork on a list… if you're in a city during the snow (or just wish to be) this is a perfect choice. 
Department store and aspiring photographer, Therese, is lucky enough to have the older and very much more established Carol Aird acquire a crush on her in 1950s New York. 
Watch On: Netflix, Vudu
HOT DOG… THE MOVIE (1984)
Director: Peter Markle
The goofiest and most ridiculous film on the list (and this list includes SKI SCHOOL). 
"Harkin Banks heads to skiing championships in California. A teen runaway tags along as he parties and competes with friends and foes."
Watch On: YouTube
SKI SCHOOL (1990)
Director: Damian Lee
Early 90s' antics! It doesn't have to be good to make this list – the percentage of party in this one is high and that'll do. 
"Rival groups in a skiing school do battle on and off the piste. One gang are rich and serious, the other group are party animals."
Watch On: Hulu, HBO Max, Amazon Prime
The "We're At That Point" Category
Getting a little tired of your pandemic crew…
THE SHINING (1980)
Director: Stanley Kubrick
Well, this is an obvious choice, but one too obvious not to mention and always "fun" for a snow day, but a pandemic snow day…
No synopsis needed. 
Watch On: HBO Max, Sling TV, Amazon Prime
FARGO (1996)
Director: Joel and Ethan Coen
Another one we didn't need to mention but did anyway, it's perhaps the perfect snow day film after all. 
No synopsis needed. 
Watch On: Amazon Prime, Sling TV, Fubo TV
THE LODGE (2019)
Directors: Severin Fiala, Veronika Franz
Looking for something that's no fun at all? Look no further. A Sidewalk Cinema selection and mental-health-challenger starring Elvis' granddaughter. 
"A soon-to-be stepmom is snowed in with her fiancé's two children at a remote holiday village. Just as relations begin to thaw between the trio, some strange and frightening events take place." We kinda dare you to watch it…
Watch On: Hulu, YoutTube, Google Play
We argue about THE LODGE on episode 35 of the Sidewalk SideTalks podcast here.
The "It Could Be Worse" Category
THE REVENANT (2015)
Director: Alejandro G. Iñárritu
Thanks to Leo's constant complaining (and Oscar begging), you probably know how cold this one is, even if you haven't seen it. You'd almost think he didn't get a (very, very big) paycheck – "frostbite", blah, blah, blah.
"A frontiersman on a fur trading expedition in the 1820s fights for survival after being mauled by a bear and left for dead by members of his own hunting team."
Watch On: Hulu, Sling TV, Cinemax, YouTube, Google Play, iTunes, Vudu, Amazon
ALIVE (1993)
Director: Frank Marshall
Say you were to survive a plane crash – you'd hope you'd end up on a tropical island, right? But… Oh and there's no food, just bodies, what does one do?… based on a true story. Yep.
"A Uruguayan rugby team stranded in the snow swept Andes are forced to use desperate measures to survive after a plane crash."
Watch On: Sling TV, YouTube, iTunes, Vudu, Amazon
MISERY (1990)
Director: Rob Reiner
Based on a Stephen King novel and with an Oscar-relevant, chilling, powerhouse performance by Kathy Bates, MISERY is next level snowed-in. 
"After a famous author is rescued from a car crash by a fan of his novels, he comes to realize that the care he is receiving is only the beginning of a nightmare of captivity and abuse."
Watch On: Hulu, HBO Max, Amazon Prime
Need To Warm Up?
Want to go the opposite route and forget about the cold… It's like Christmas in July.
SUMMER OF SAM (1999)
Director: Spike Lee
It's hot as hell in New York – how hot? Serial killer hot. This one has all of the typical Spike Lee content and context, plus Mira Sorvino.
"Spike Lee's take on the "Son of Sam" murders in New York City during the summer of 1977 centering on the residents of an Italian-American Northeast Bronx neighborhood who live in fear and distrust of one another."
Watch On: iTunes, YouTube, Vudu, Google Play, Amazon Prime
THE FLORIDA PROJECT (2017)
Director: Sean Baker
It's Central Florida hot. THE FLORIDA PROJECT is another one that frequently lands on rec lists in one form or another, but it's justifiable – one of the greatest films of the last 20-year. Quick trivia, THE FLORIDA PROJECT was what Disney World was originally referred to in its early stages. 
"Set over one summer, the film follows precocious six-year-old Moonee as she courts mischief and adventure with her ragtag playmates and bonds with her rebellious but caring mother, all while living in the shadows of Walt Disney World."
Watch On: Netflix, YouTube, Vudu, Google Play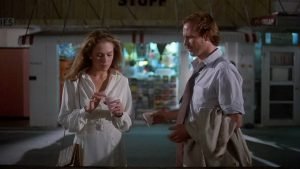 BODY HEAT (1981)
Director: Lawrence Kasdan
Kathleen Turner is hot and William Hurt has a mustache. 
"In the midst of a searing Florida heat wave, a woman persuades her lover, a small-town lawyer, to murder her rich husband."
Watch On: YouTube, Vudu, Google Play, Amazon Prime
HOT SUMMER NIGHTS (2017)
Another Sidewalk Film Festival selection, HOT SUMMER NIGHTS  is a quick-paced popcorn and gummy bears action-romance-coming-of-age, steeped in nostalgia, movie of the summer, 2017.
Taking place in the summer of 1991, Daniel, having recently lost his father, is sent to live with his aunt on Cape Cod. He makes fast friends with the drug-dealing, troublemaker Hunter and, despite being warned, falls fast for his little sister McKayla. As you may have already guessed, things get out of control pretty quickly. 
BARTON FINK (1991)
Directors: Joel Coen, Ethan Coen
Proving the Coens don't just deliver winter landscapes, BARTON FINK reflects heat so crippling it contributes to writer's block.
"A renowned New York playwright is enticed to California to write for the movies and discovers the hellish truth of Hollywood."
Watch On: YouTube, Vudu, Google Play, Amazon Prime
WILD THINGS (1998)
Director: John McNaughton
Perhaps the most fun selection on the list. There's no snow in The Glades, but there is Kevin Bacon, Matt Dillon, Neve Campbell, Denise Richards, Bill Murray, and even Theresa Russell and Robert Wagner, plus a whole lot of complicated drama.
"A police detective uncovers a conspiracy behind a case involving a high-school guidance counselor when accusations of rape are made against him by two female students."
Watch On: Tubi, YouTube, Vudu, Google Play, Amazon, iTunes
We talk a little about WILD THINGS & Bill Murray's contribution to the film on Episode 52 of the SIdeTalks podcast: https://soundcloud.com/sidetalkspodcast/sidetalks-52
DO THE RIGHT THING (1989)
Director: Spike Lee
Spike Lee loves to include the dead heat of the summer as a theme and in DO THE RIGHT THING the summer, city heat contributes to the acceleration of the plot. Thirty-plus years old and the film is still incredibly relevant. 
"On the hottest day of the year on a street in the Bedford-Stuyvesant section of Brooklyn, everyone's hate and bigotry smolders and builds until it explodes into violence."
Watch On: Hulu, Sling TV, Fubo, Amazon Prime
SOUTHLAND TALES (2006)
Director: Richard Kelly
Set during a three-day heatwave and completely bonkers. Look at this cast: The Rock, Janeane Garofalo, Cheri Oteri, Miranda Richardson, Mandy Moore, Seann William Scott, Justin Timberlake, Jon Lovitz, Bai Ling, and Sidewalk alum Beth Grant.
"Just before a huge 4th of July celebration, an action star-struck with amnesia meets up with a porn star who is developing her own reality TV project and a policeman who holds the key to a vast conspiracy."
Watch On: Vudu, Amazon, YouTube
Corey discusses SOUTHLAND TALES on episode 57 of the SIdeTalks podcast: https://soundcloud.com/sidetalkspodcast/sidetalks-57-5-6-7-steep-drop-in-quality-3-2-8-1-and-4
FALLING DOWN (1993)
Director: Joel Schumacher
The inciting incident is the protagonist's car's air conditioning breaks in the middle of an oppressive LA heatwave, the final straw that pushes him to the brink. This one did not age well.
"An ordinary man frustrated with the various flaws he sees in society begins to psychotically and violently lash out against them."
Watch On: YouTube, Amazon, iTunes, Google Play, Vudu
DOG DAY AFTERNOON (1975)
Director: Sidney Lumet
Based on an actual incident, the real bank robber, John Wojtowicz, watched THE GODFATHER to get ideas the day he robbed the Chase Manhattan bank – both Al Pacino and John Cazale, who star in the film also starred in THE GODFATHER. "Three amateur bank robbers plan to hold up a bank. A nice simple robbery: Walk-in, take the money, and run. Unfortunately, the supposedly uncomplicated heist suddenly becomes a bizarre nightmare as everything that could go wrong does."
Watch On: HBO Max, Amazon, YouTube, iTunes, Google Play