It's Pride month and many events have been canceled or postponed, but PRIDE is not canceled, so why not celebrate by watching a few stellar LGBTQ films! Sidewalk programmers have put together an extremely comprehensive list of many of our favorites, along with some fun extras. We've included classics, as well as many titles that you may not have heard of, plus lots of surprises. The list is broken down into LGBTQ sections with PG films and a fun "in the closet" section at the end. This list has excluded episodic content and only highlights feature films. Let us know what you like! Happy, Happy Pride!
The + means the film can be considered indie. 
The * means that the film is a festival selection. 
The # means the film was a cinema selection
The / means the writer and/or director was a Sidewalk Film Festival alum.
L
GEMINI (2017) + /
A brilliant neon-soaked modern noir set in contemporary Hollywood, director Aaron Katz's sly, subversive hangout thriller follows the fraying relationship between a famous actress (Zoe Kravitz) and her personal assistant (Lola Kirke). We don't want to spoil much about this one, but it's worth the investment of your time and attention — and features one of the best scores of the past few years from the prolific film composer Keegan DeWitt.
The GEMINI soundtrack is available on vinyl: https://lightintheattic.net/releases/4153-gemini-original-motion-picture-soundtrack
Watch On: Hulu, Amazon Prime, Vudu, Google Play, YouTube
THE FAVOURITE (2018)  /
One of the best films of the last 20 years, THE FAVOURITE is Yorgos Lanthimos' brilliantly odd dive into the18th century England. You owe it to Emma Stone to watch THE FAVOURITE – her organs shifted after wearing a corset for a month during the making of the film. "A frail Queen Anne occupies the throne and her close friend, Lady Sarah, governs the country in her stead. When a new servant, Abigail, arrives, her charm endears her to Sarah."
Here's an article from Harpers Bazaar about the real Queen Anne: https://www.harpersbazaar.com/uk/culture/entertainment/a26140377/the-favourite-queen-anne-true-story/
Watch On: Hulu, Amazon Prime, Vudu, Google Play, YouTube
VITA & VIRGINIA (2019) * # +
Adapted from the 1992 play of the same name, Vita and Virginia traces the turbulent (to say the least) romance, friendship and professional relationship between literary icon Virginia Woolf and poet and novelist Vita Sackville West. Moving from their first encounter to beyond the collapse of their romance, the film time travels through1920's England. The locations are breathtaking, including numerous scenes shot on location at Knole House, Vita Sackville-West's magnificent 365 room family estate.
Watch On: Hulu, Amazon Prime, Vudu, Google Play, YouTube
BARE (2015) * +
Bored with small-town life, Sarah is thunderstruck by the entrance of an outgoing, exciting troublemaker, Pepper. What begins as an intoxicating collision of two very different lives quickly begins to evolve into something more substantial, but, like any collision, there's fallout. Natalia Leite's feature directorial debut magnificently captures the excitement of insoluble crushing and places it against the backdrop of the wondrously neon-highlighted desert. Featuring Paz de la Huerta and Dianna Agron (best known for GLEE) in her first feature film lead role, Bare premiered at the 2015 Tribeca Film Festival and screened at SHOUT 2015.
Watch On: Hulu, Amazon Prime, Vudu, Google Play, YouTube, Sling TV
DISOBEDIENCE (2017) +
An inter-Rachel romance! Based on the novel of the same name by Naomi Alderman, "A woman returns to her Orthodox Jewish community that shunned her for her attraction to a female childhood friend. Once back, their passions reignite as they explore the boundaries of faith and sexuality." Director Sebastián Lelio has stated that there was "tremendous electricity" between Rachel McAdams and Rachel Weisz – dang!
Watch On: Amazon Prime, Vudu, Google Play, YouTube
THE MISEDUCATION OF CAMERON POST  (2018) * +
1993: When Cameron Post (Chloë Grace Moretz) is caught making out with a girl at prom, she is sent straight to Gay Conversion Therapy Camp God's Promise. Mixing dark humor, deadpan timing, and a bittersweet earnestness, Desiree Akhavan's adaptation of the beloved novel by E.M. Danforth gently prods away at the hypocrisies, manipulation, and exploitation that underlie homophobia, be it societal or internalized.
Watch On: Hulu, Amazon Prime, Vudu, Google Play, YouTube
SET IT OFF (1996)
Lesbian character Cleo Simms (played by Queen Latifah – her first leading role in a feature film) lands SET IT OFF on the list. "Desperation drives four inner-city women to bank robbery in Los Angeles, then they start mistrusting each other."
Watch On: HBO, Amazon Prime, Vudu, Google Play, YouTube, iTunes
THE LADIES OF THE HOUSE (2014) * +
A birthday outing with friends turns into a horrific fight for survival after the partying bros become trapped in a house with a family of malevolent women who enjoy a pin-up lifestyle and a special diet. THE LADIES OF THE HOUSE stars Shout and Sidewalk multi-alums Farah White, Melodie Sisk, and Frank Mosley along with Brina Palencia, Samrat Chakrabarti, and Belladonna. Lesbian horror!
Watch On: Amazon Prime, iTunes
BOUND (1996)
Okay, so it's not the greatest film ever and it's pretty darn campy, but it's also really fun… oh and Gina Gershon – plus it's directed by Lilly and Lana Wachowski. Ex-con Corky (Gershon) joins forces with Violet in an effort to steal millions of dollars of mob money and blame it on Violet's jerky boyfriend Caesar. Gina Gershon claims her influences for the role were James Dean, Marlon Brando, and Clint Eastwood.
Watch On: HBO, Amazon Prime, Vudu, Google Play, YouTube, iTunes, Crackle, Pluto TV
PORTRAIT OF A LADY ON FIRE (2019)  #
Possibly the best film of 2019 – perhaps of the last decade. Gorgeous, breathtaking, mesmerizing, other-worldly and spectacularly romantic. We were incredibly proud to screen PORTRAIT OF A LADY ON FIRE at the Sidewalk Cinema. Directed by Céline Sciamma – in 18th century France a young painter, Marianne, is commissioned to do the wedding portrait of Héloïse without her knowing. Therefore, Marianne must observe her model by day to paint her portrait at night. Day by day, the two women become closer as they share Héloïse's last moments of freedom before the impending wedding.
Here's a great article from The New York Times: https://www.nytimes.com/2020/02/13/movies/portrait-lady-fire-celine-sciamma.html
And a great BTS article focusing on cinematographer Claire Mathon: https://www.indiewire.com/2020/02/portrait-of-a-lady-on-fire-cinematography-claire-mathon-celine-sciamma-1202214143/
Watch On: Hulu, Amazon Prime, Google Play, YouTube
MARGARITA WITH A STRAW (2014) +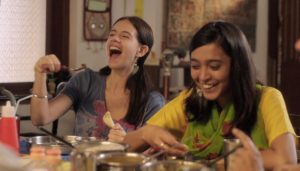 Inspired by director Shonali Bose's sister, "a rebellious young woman with cerebral palsy leaves her home in India to study in New York, unexpectedly falls in love, and embarks on an exhilarating journey of self-discovery."
Watch On: Hulu, Amazon Prime, Google Play, YouTube, Tubi, iTunes
HEAVENLY CREATURES (1994) +
"Two teenage girls share a unique bond; their parents, concerned that the friendship is too intense, separate them, and the girls take revenge." Directed by Peter Jackson and starring Melanie Lynskey and Kate Winslet in their feature film debuts, HEAVENLY CREATURES is based on the true story of the 1954 Parker–Hulme murder case in Christchurch, New Zealand. The film's tone is eerie thanks to amazing, thoughtful cinematography, but also perhaps because almost all of the film's locations were the actual places where the events occurred. Also notable, Juliet Hulme was revealed to be mystery writer Anne Perry who came forward and revealed her real identity in 1994 during the production of HEAVENLY CREATURES.
Here's Anne Perry's novelist website: http://www.anneperry.co.uk/
Watch On: This one is harder to find at the moment, it's not available streaming and the DVD/Blu-Ray options are out of print, there are some options on Ebay
TORMENTING THE HEN (2017) * +
Claire, a New York playwright, is invited to the Berkshires to present her work. She brings along her girlfriend, Monica, a Brazilian environmental engineer. Their idyllic retreat is soon interrupted by an unnerving neighbor, Mutty, whose lack of social boundaries and penchant for lawn mowing gradually chips away at Monica's sanity. Difficulties regarding connecting to others, outside of one's own cultural, ethnic and sexual orientation, lead characters to clash and collide. Misunderstandings spiral into something more sinister and sun-drenched, hazy summer days grow darker.
Watch On: Amazon Prime
CLOUDS OF SILS MARIA (2014) +
We had you at Juliette Binoche and Kristen Stewart! "A film star comes face-to-face with an uncomfortable reflection of herself while starring in a revival of the play that launched her career." We're not sure if we believe this, but Juliette Binoche claims that she took a role in the film GODZILLA to "believably deliver a line from the CLOUDS OF SILS MARIA script about acting in blockbusters." Director Olivier Assayas has claimed that CLOUDS OF SILS MARIA is a companion piece to PERSONAL SHOPPER (featured in the "These Films Are So In The Closet" section below) – the two would make a great, albeit extremely subtle, Pride double feature.
Watch On: Amazon Prime, Google Play, YouTube, Sling TV, iTunes, Vudu
WHEN NIGHT IS FALLING (1995) +
"An uptight and conservative woman, working on tenure as a literacy professor at a large urban university, finds herself strangely attracted to a free-spirited, liberal woman who works at a local carnival that comes to town." WHEN NIGHT IS FALLING received mixed reviews upon release, including two thumbs down from Siskel & Ebert, but there's a hang-gliding date and a heavy circus theme, so it makes the list. AfterEllen's most recent review states, "one of the worst movies I have ever loved with a full-hearted, unconstrained passion. It has virtually no redeeming qualities, and yet I challenge even the most intellectually rigorous critic not to delight in it."
Watch On: Pluto TV, Amazon Prime, Google Play, YouTube
CAROL (2015) + #
Adapting Patricia Highsmith's novel The Price of Salt as a brilliant love story, Director Todd Haynes' CAROL is dreamy and entrancing. Set during the holiday season in 1950s New York City, Carol is the story of the whirlwind romance between shopgirl Therese (Rooney Mara) and the titular socialite (Cate Blanchett). Featuring a memorably lush score from Carter Burwell and period-appropriate Super 16mm film by cinematographer Ed Lachman, CAROL is top-notch on every possible level — one of the best films of the last few decades (dare we say all-time) and featuring some of its strongest, most sensitive performances.
Here's a link to the start of a hilarious series of articles from Autostraddle. "30 Days of Carol": https://www.autostraddle.com/30-days-of-carol-day-one-ranking-my-best-carol-posts-412949/
One of my favorites of the 30, "Ranking Carol's Best Pickup Lines": https://www.autostraddle.com/ranking-carols-best-pickup-lines-386471/
Watch On: Vudu, Amazon Prime, iTunes
PARIAH (2011)  +
"A Brooklyn teenager juggles conflicting identities and risks friendship, heartbreak, and family in a desperate search for sexual expression." Directed by Dee Rees (director of MUDBOUND), PARIAH premiered at the 2011 Sundance Film Festival and won the Excellence in Cinematography Award.
Watch On: Amazon Prime, Google Play, YouTube, iTunes, Vudu
GIA (1998)
Starring Angelina Jolie and Faye Dunaway, "The story of the life of Gia Carangi, a top fashion model from the late 1970s, from her meteoric rise to the forefront of the modeling industry, to her untimely death." Many consider Gia to be the "first supermodel" (though Janice Dickinson will argue that moniker belongs to her). During her modeling career, Carangi became addicted to heroin, and she died of AIDS-related complications at 26, becoming one of the first famous women to die of the disease. Cindy Crawford has claimed that Carangi carved the way for her career, in part due to her resemblance to Gia. Crawford rose to prominence the same year that Carangi died and was often called "Baby Gia" within the industry. GIA focuses on Carangi's relationship with a make-up artist named Linda, but she has been romantically linked to fellow models Julie Foster and Janice Dickinson and makeup artist Sandy Linter.
Here's a great site focusing on Gia Carangi : https://www.crfashionbook.com/fashion/g25904023/gia-carangis-secret-moments/
Here's Gia Carangi's 20/20 Interview: http://www.giacarangi.com/gia-carangis-abc-tv-2020-interview/
Watch On: Hulu, HBO, Amazon Prime, Google Play, YouTube, iTunes, Vudu
MONSTER (2003)  +
"Based on the life of Aileen Wuornos, a Daytona Beach sex worker who became a serial killer." Directed by Patty Jenkins, the film brings empathy and grace to Wuornos' complicated life story and received a great deal of criticism due to such. Trigger warning of course – true to the life that the film is accounting, there is a great deal of really horrific violence and sexual assault.
Watch On: Sling TV, Crackle, Amazon Prime, Google Play, YouTube, iTunes, Vudu, Tubi, Pluto TV
MULHOLLAND DRIVE (2001)
A two and a half hour David Lynch, surrealist lesbian film! "After a car wreck on the winding Mulholland Drive renders a woman amnesiac, she and a perky Hollywood-hopeful search for clues and answers across Los Angeles in a twisting venture beyond dreams and reality."
David Lynch has his own coffee and it goes really well with a screening of MULHOLLAND DRIVE:
https://www.allegrocoffee.com/shop/coffee/david-lynch-signature-organic-espresso-roast/
Watch On: Amazon Prime, Google Play, YouTube, iTunes, Vudu
BLOCKERS (2018)
This makes the list thanks to one of the main characters. We were impressed with the inclusion of the queer storyline in such a basic, mainstream comedy. "Three parents try to stop their daughters from losing their virginity on prom night."
Watch On: Amazon Prime, Google Play, YouTube, Vudu
JULES OF LIGHT & DARK (2018) +
"Two young lovers, Maya and Jules, are found wrecked on the side of the road after a party by a loner roughneck, Freddy. During rehab, their relationship falls apart, and Maya forms an unlikely friendship with Freddy."
Watch On: Amazon Prime, Google Play, YouTube
THE RUNAWAYS (2010)
A high-energy "coming-of-age biographical film about the 1970s teenage all-girl rock band The Runaways. The relationship between band members Cherie Currie and Joan Jett is also explored."
There are some amazing photo archives of The Runaways, here's just one: https://archive.photofeatures.com/gallery/The-Runaways-Photo-Archive/G0000bNckCRIv7Ug/
Watch On: Netflix, Vudu, Amazon Prime, Google Play, YouTube, iTunes
L Documentaries: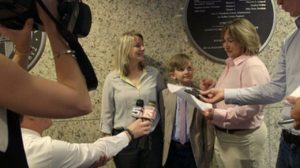 ALABAMA BOUND (2017) * +
The courageous story of lesbian couples struggling to thrive in Alabama is poignantly portrayed in this moving documentary about the slow, but steady progress of LGBTQ rights. Directors Lara Embry and Carolyn Shere, both Alabama natives, also skillfully spotlight Representative Patricia Todd, at one time the state's only openly gay legislator. Todd stood on the frontlines, fighting some of the heaviest battles facing LGBTQ Alabamians. ALABAMA BOUND is one of the all-time most riveting and heartfelt documentaries regarding queer life in the South.
Watch On: Check the films website for upcoming screenings and broadcasts: https://www.alabamaboundfilm.com/
SHAKEDOWN (2018) * +
SHAKEDOWN follows the story of the Shakedown Angels — exotic dancers who performed primarily for queer women in Los Angeles underground gay clubs in the '90s and early 2000s. Led by party promoter and self-described stud "Ronnie-Ron," the Shakedown Angels' performance personas develop a cult-like fan following. As documentarian Leilah Weinraub takes viewers into intimate backstage spaces, you get a glimpse of a distinctive Los Angeles subculture that no longer exists in the same form.
Watch On: Via the films website: https://shakedown.film/
TIG (2015)
Directed by Kristina Goolsby, Ashley York and Jennifer Arnold, TIG chronicles comedian/actor Tig Notaro's trials and tribulations dealing with a breast cancer diagnosis, as well as her attempts to become pregnant with fiancée Stephanie Allynne (who, most recently, starred in THE L WORD: GENERATION Q).
Watch On: Netflix
OUT IN THE NIGHT (2014) * +
An August night in 2006, a fight broke out between 7 black lesbians and a 28-year-old man in New York City, which ended in the man being stabbed. While the local papers were quick to label the women as a "seething, Sapphic septet", OUT IN THE NIGHT tells a different story involving self-defense in the face of violent harassment. While the film subtly reflects on the racism, homophobia, and sexism in the American judicial system, there is an intense focus on the personal experience of queer women moving through a flawed system. OUT IN THE NIGHT won the Best Documentary Feature award at the 2014 New Orleans Film Festival and screened at the 2014 SHOUT FILM FESTIVAL
Watch On: Vudu, Amazon Prime, Google Play, YouTube
EDIE & THEA: A VERY LONG ENGAGEMENT (2009) +
"After 42 years, Edie and Thea are finally able to get married. From the early '60s to the present day, the tireless community activists persevere through many battles, both personal and political. As Edie says, 'We just went on with this talent we have for wrestling joy from the shit'. Directors Susan Muska and Greta Olafsdottir (THE BRANDON TEENA STORY) return with a love story of two remarkable women whose commitment to each other is an inspiration to us all."
Watch On: Tubi, Amazon Prime
HIT SO HARD (2012) * +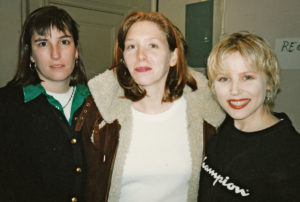 A documentary profile of Hole drummer Patty Schemel. The film tracks Schemel's career and focuses on her near-death struggles with fame and addiction. HIT SO HARD also details Schemel's coming out and features interviews with other female drummers (including Nina Gordon, Kate Schellenbach, Gina Schock, Debbi Peterson, and Phranc) and looks at inequalities in the music industry. Plus there's a wild interview with Courtney Love during which she eats a box of cookies.
Watch On: This one is harder to find, but there is a DVD for purchase via Amazon or via Roku Reelgood App
WHITNEY: CAN I BE ME (2017) * +
Celebrated director Nick Broomfield is known to mesmerize with his documentary work by providing a haunting and revealing peak behind the curtain in regards to fascinating and enigmatic figures. WHITNEY: CAN I BE ME skillfully covers Houston's background and rise to fame, focusing on the controlling record industry, her marriage to Bobby Brown and, most-talked-about, the intimate 18-year relationship that Houston had with best friend, creative director and lover Robyn Crawford. Compiled of current and archival interviews, breathtaking performances and never-before-seen footage, the documentary is captivating for Whitney fans and non-fans alike. By the film's end there is no question, Houston possessed a genuine and rare talent and tenacity, she was a veracious superstar, avoidably lost too soon and not simply the caricature of excess that tabloid headlines reduce her to. The film was the 2017 SHOUT opening night selection.
Watch On: Hulu, Showtime, Sling TV, Amazon Prime, Google Play, YouTube, Vudu
We Know, We Know:
BLUE IS THE WARMEST COLOR (2013) +
This one is problematic. One of the most talked about, panned and applauded lesbian films of the past two decades… the controversy is mostly focused on its 7-minute sex scene – not only because of the run time or because the director took ten days to shoot it, along with over a hundred takes, but because both actors have spoken out against the director and the process of shooting that particular scene. Author Julie Maroh, whose comic-book novel the film is based on, has said about the film: "It appears to me that this is what was missing on the set: lesbians." Burn! All this said and considered, the film still manages to land on list after list during Pride month and beyond and it certainly cleaned up at the 2013 Cannes Film Festival – it was the first time ever that the Palme d'Or was awarded to both actors and the director (it's usually just given to the director). At 19 actor Adele Exarchopoulos is the youngest person to ever win the Palme d'Or and Exarchopoulos and co-star Lea Seydoux, were the second and third women in history to ever receive the award. Lots to consider. Here's an article for starters: https://www.chicagotribune.com/entertainment/la-et-mn-blue-warmest-color-20131121-story.html
Watch On: Netflix, Amazon Prime, iTunes, Vudu
THE KIDS ARE ALL RIGHT (2010) +
Another obvious choice, "Two children conceived by artificial insemination bring their biological father into their non-traditional family life." Co-written, produced and directed by Lisa Cholodenko, director of HIGH ART, LAUREL CANYON and an episode of THE L WORD, THE KIDS ARE ALL RIGHT was nominated for 4 Academy Awards including BEST MOTION PICTURE and it won the 2011 Best Motion Picture Golden Globe.
Watch On: Hulu, HBO, Amazon Prime, Google Play, YouTube, Vudu, iTunes
G
BEACH RATS (2017) * +
Handsome 19-year- old Frankie stumbles recklessly through the summer, his first without another year of high school ahead. He runs around with friends, drinking and drugging, he reluctantly gets a girlfriend and, more than anything else, he wrestles with his sexuality. Moving from chat rooms to the passenger seat of stranger's cars, Frankie's life seems to be teetering on the verge of explosion. His father is dying of cancer, his future is unclear and his behavior is dangerous. Director Eliza Hittman's presentation of dark, drunken and dreamy corners of Brooklyn feel like perilous foreign landscapes. The film's cinematography (Hélène Louvart) and direction is poetically hypnotizing. The feminine approach behind the camera, combined with the masculine bodies that consistently fill the frame, flip the typical rubric and the result is a unique, androgynously beautiful, incredibly watchable work of art. BEACH RATS is a welcomed warning sign that the LGBTQ cinematic landscape is changing. The film premiered at the 2017 Sundance Film Festival and we were honored to have it as the Closing Night Film for SHOUT 2017.
Watch On: Hulu, Amazon Prime, Google Play, Vudu, YouTube
HENRY GAMBLE'S BIRTHDAY PARTY (2016) * +
Family, classmates, and church friends gather to celebrate Henry Gamble's 17th birthday with a party that rivals Mrs. Dalloway's in sexual and emotional tumult. Struggling to reconcile his conservative Christian upbringing and blossoming gay identity, Henry floats between the conflicting worldviews of his party guests. As day stretches into night and once polite small talk grows in intensity, Henry's pool party reveals its attendees' clandestine affairs and discomforts. Writer/director Stephen Cone depicts evangelical church culture with striking precision in this familiar story of suburban secrets and lies. HENRY GAMBLE'S BIRTHDAY PARTY won the Best Feature award at the 2016 Shout Film Festival.
Watch On: Amazon Prime
MOONLIGHT (2016) + /
Memorable Oscar award-winner, written and directed by Sidewalk alum Barry Jenkins and starring Bessemer native and Sidewalk favorite André Holland. "A young African-American man grapples with his identity and sexuality while experiencing the everyday struggles of childhood, adolescence, and burgeoning adulthood."
Here's an article on the cinematography of MOONLIGHT: https://www.indiewire.com/2016/10/moonlight-cinematography-color-barry-jenkins-james-laxton-alex-bickel-1201740402/
Here's a great video on such (as well as Jenkins' IF BEALE STREET COULD TALK): https://www.youtube.com/watch?v=UYh_lrwZXmo
Watch On: Netflix, Amazon Prime, iTunes, Vudu, Google Play, YouTube
GAYBY (2012) * +
Jenn and Matt are best friends from college who are now in their thirties. Single by choice, Jenn spends her days teaching hot yoga and running errands for her demanding boss. Matt suffers from comic-book writer's block and can't get over his jerky ex-boyfriend. They decide to fulfill a youthful promise to have a child together… the old-fashioned way.  Can they navigate the serious and unexpected snags that they hit as they attempt to get their careers and dating lives back on track in preparation for parenthood? GAYBY is an irreverent comedy about friendship, growing older, sex, loneliness, and the family you choose. Based on the celebrated short film of the same name that screened at Sidewalk in 2012 (as well as at over one hundred other film festivals), Gayby is relentlessly hilarious, admirably hopeful and surprisingly poignant.
Watch On: Amazon Prime, iTunes, Vudu, Tubi
CAN YOU EVER FORGIVE ME? (2018)
"Melissa McCarthy stars as Lee Israel, the best-selling celebrity biographer (and cat lover) who made her living in the 1970's and 80's profiling the likes of Katharine Hepburn, Tallulah Bankhead, Estée Lauder and journalist Dorothy Kilgallen. When Lee found herself unable to get published because she had fallen out of step with the marketplace, she turned her art form to deception, abetted by her loyal friend Jack (Richard E. Grant)."
Watch On: Hulu, Amazon Prime, Vudu, Google Play, YouTube
STRANGER BY THE LAKE (2013) +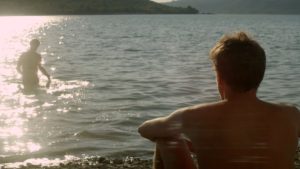 "Summertime. A cruising spot for men, tucked away on the shores of a lake. Franck falls in love with Michel, an attractive, potent and lethally dangerous man. Franck knows this but wants to live out his passion anyway."
Watch On: Sling TV, Amazon Prime
A SINGLE MAN (2009) +
Based on the novel by Christopher Isherwood, "An English professor, one year after the sudden death of his boyfriend, is unable to cope with his typical days in 1960s Los Angeles." A SINGLE MAN is fashion designer and filmmaker Tom Ford's directorial debut. While certainly capable, Ford did not design the costumes, Arianne Phillips did.
Here's a fun architectural analysis of A SINGLE MAN: https://www.intjournal.com/0913/a-single-man
And here's a great, very short visual essay: https://www.youtube.com/watch?v=SVJcFGCFeio
Watch On: Netflix
OTHER PEOPLE (2016) * +
A selection of the 18th annual Sidewalk Film Festival, SNL writer Chris Kelly based OTHER PEOPLE on his own personal experience moving home to care for his mother as she was suffering from cancer. The film has a lovely and sharp balance of humor and sentiment.
Watch On: Netflix, Amazon Prime, iTunes, Vudu, Google Play, YouTube
G Documentaries:
DO I SOUND GAY? (2014) * +
On the heels of a break-up journalist David Thorpe makes his way through the typical post-relationship self-deprecation list. Most notably he discovers that he intensely dislikes the stereotypical "gay voice" and confronts the fact that he, himself, "sounds gay". Margaret Cho, David Sedaris, George Takei, Dan Savage and numerous others help him question what it means to posses a stereotypical "gay voice"? And why does it exist in the first place? All while Thorpe works to repair his own vocal inclination. DO I SOUND GAY? is an excessively watchable, incredibly entertaining, surprisingly intriguing documentary.
Watch On: Hulu, Amazon Prime, iTunes, Google Play, YouTube
AN HONEST LIAR (2015) * +
A feature documentary about the world-famous magician, escape artist, and world-renowned enemy of deception, James 'The Amazing' Randi. AN HONEST LIAR brings to life Randi's intricate investigations that publicly exposed psychics, faith healers, and con-artists with quasi-religious fervor. A master deceiver who came out of the closet at the age of 81, Randi created fictional characters, fake psychics, and even turned his partner of 25 years, the artist Jose Alvarez, into a sham guru named Carlos. But when a shocking revelation in Randi's personal life is discovered, it isn't clear whether Randi is still the deceiver—or the deceived. AN HONEST LIAR screened at the 2014 Sidewalk/Shout Film Festival and won the Best Shout Film award.
Watch On: Amazon Prime
DREAM BOAT (2017) +
"On a cruise for gay men, five passengers of different nationalities take a break from their families and cultures to party and reflect on life."
Watch On: Netflix, Amazon Prime, Vudu, Google Play, YouTube
DEEP SOUTH (2012) * +
"DEEPSOUTH is a documentary about the new American South, and the people who inhabit its most quiet corners. Beneath layers of history, poverty and now soaring HIV infections, four Americans redefine traditional Southern values to create their own solutions to survive. Josh, a college student, seeks the support of an underground gay family miles away from his suffocating Mississippi Delta hometown. With no funds and few resources, Monica and Tammy try tirelessly to unite reluctant participants at their annual HIV retreat in rural Louisiana. Kathie, an Alabama activist, spends 120 days a year on the road fighting a bureaucracy that continues to ignore the South." DEEPSOUTH was the winner of the 2012 Shout Best Film award.
Watch On: Amazon Prime
TOM OF FINLAND (2017) +
"Award-winning filmmaker Dome Karukoski brings to the screen the life and work of artist Touko Valio Laaksonen (aka Tom of Finland), one of the most influential and celebrated figures of twentieth century gay culture."
Here's the Tom Of Finland store: https://tomoffinlandstore.com/
Watch On: Hulu, Amazon Prime, Vudu, Google Play, YouTube
LARGER THAN LIFE: THE KEVYN AUCOIN STORY (2018) +
One of our favorite Sidewalk ScreenTalk selections of the past few years, LARGER THAN LIFE: THE KEVYN AUCOIN STORY profiles the legendary, charismatic and incredibly talented make-up artist Kevyn Aucoin. Featuring interviews with Christy Turlington, Naomi Campbell, Tori Amos, Cher, Linda Evangelista, Isaac Mizrahi, Kate Moss and the list goes on… The documentary chronicles Aucoin's struggles growing up in Lafayette, Louisiana, his rise to fame and his unfortunate untimely death at the height of his career. A quick side note, Aucoin's parents eventually came to accept his homosexuality and started the Lafayette chapter of P-FLAG.
Watch On: Hulu, Amazon Prime, Vimeo, iTunes
I AM DIVINE (2013) +
A documentary profile of Harris Glenn Milstead, better known as Divine. The film traces Milstead's life and explores how Divine became filmmaker John Waters' cinematic muse and an international drag icon.
Here's Divine's official website: https://divineofficial.com/
Watch On: Netflix, Amazon Prime, Vimeo, iTunes, Google Play
STRIKE A POSE (2016) +
A Sidewalk ScreenTalk selection, "In 1990, seven young male dancers joined Madonna on her most controversial Blond Ambition Tour. STRIKE A POSE profiles this group of dancers decades after the tour has ended – it is a dramatic tale about overcoming shame and finding the courage to be who you are." STRIKE A POSE would make a terrific double feature with the 1991 documentary MADONNA: TRUTH OR DARE in which the dancers are featured and from which many clips are used to construct STRIKE A POSE.
Here's a 25 year look back at MADONNA: TRUTH OR DARE: https://www.papermag.com/madonna-documentary-truth-or-dare-1982808566.html
Watch On: iTunes, Tubi
CIRCUS OF BOOKS (2019) * +
This documentary tells the fascinating story of Circus of Books, a beloved focal point of the West Hollywood gay scene owned and operated by a straight Jewish couple who became two of the biggest gay porn distributors in the country — all while keeping their business completely separate from their faith, friends and children. Told mostly by the family and Circus of Books' employees, this surprisingly textured film digs deep into the struggles to preserve and expand America's fundamental freedoms. CIRCUS OF BOOKS won the Best Documentary Feature Audience Award at the 2019 Sidewalk Film Festival.
Watch On: Netflix
SMALL TOWN GAY BAR (2006) * +
An intimate look at two gay bars in the rural Deep South, Rumors in Shannon, Mississippi, and Different Seasons/Crossroads in Meridian. The documentary also examines the brutal hate crime murder of Scotty Joe Weaver in nearby Bay Minette, Alabama. Directed by Shout/Sidewalk multi-alum, Malcolm Ingram, SMALL TOWN GAY BAR premiered at the 2006 Sundance Film Festival and was the Grand Jury Award winner for Best Documentary at Outfest 2006.
Watch On: Vudu, Purchase DVD via Amazon
We Know, We Know:
BROKEBACK MOUNTAIN (2005)
"The story of a forbidden and secretive relationship between two cowboys, and their lives over the years." Perhaps the best known gay film to date, BROKEBACK MOUNTAIN is also controversial due to the casting of two straight celebrity-level actors to play the lead roles. The film is an adaptation of a 1997 short story by Annie Proulx. The screenplay was written by producer Diana Ossana and author Larry McMurtry.
Watch On: Hulu, Starz, Sling TV, iTunes, Amazon Prime, Vudu, Google Play, YouTube
TORCHSONG TRILOGY (1988)
A classic. "Tony Award-winning actor and playwright Harvey Fierstein re-creates his role as Arnold Beckoff in this film adaptation of the smash Broadway play TORCH SONG TRILOGY. "The story chronicles a New Yorker's search for love, respect and tradition in a world that seems not especially made for him."
Watch On: HBO
CALL ME BY YOUR NAME (2017) # +
Super obvious! Gazing upon the oh so precious Timothée Chalamet being balanced by the sheer weight of Armie Hammer makes this a no-brainer… plus it was the 2018 Best Picture Oscar nominee and winner of Best Adapted Screenplay, pretty impressive for mainstream Hollywood to acknowledge an Italian directed film about a May-December romance between two annoyingly attractive men. Then again, who doesn't want to watch Armie Hammer awkwardly dance and not-so-awkwardly make out with Timmy Chalamet?
Here's a CALL ME BY YOUR NAME style guide via Esquire: https://www.esquire.com/uk/style/a15334834/call-me-by-your-name-style-guide/
Watch On: Amazon Prime, Vudu, Google Play, YouTube
B
PRINCESS CYD (2017) * +
Nine years after a cryptic family disaster, 16-year-old Cyd arrives in Chicago to spend the summer with her aunt Miranda, a famous author. The film moves meditatively, as Cyd and Miranda come to understand each other and Cyd processes the losses in her family. Meanwhile, Cyd explores her gender and sexual identity with Katie, who she meets and quickly forms a close relationship with. Skillfully written and directed by SHOUT/Sidewalk all-star alum, Stephen Cone, PRINCESS CYD is a beautiful, ruminative exploration of romantic, familial, and self-love.
Watch On: Hulu, Amazon Prime, Vudu, Google Play, YouTube
APPROPRIATE BEHAVIOR (2014) * +
Written, directed and starring Desiree Akhavan, "Shirin (Akhavan) is struggling to become an ideal Persian daughter, politically correct bisexual and hip young Brooklynite but fails miserably in her attempt at all identities. Being without a cliché to hold onto can be a lonely experience." Desiree Akhavan also has a wonderful episodic series on Hulu, THE BISEXUAL.
Watch On: Amazon Prime, Vudu, Pluto TV, Tubi, iTunes
THE DREAMERS (2003) +
Directed by the legendary Bernardo Bertolucci, "A young American studying in Paris in 1968 strikes up a friendship with a French brother and sister. Set against the background of the '68 Paris student riots."
Watch On: Cinemax
PERSONAL BEST (1982)
"The intertwined lives and loves of three highly-ranked athletes striving for the national team; Chris bounces between the beds of male coach Terry and her friend, competitor, and role model Tory." PERSONAL BEST is directed by Robert Towne and stars Mariel Hemingway, Scott Glenn and real-life track star Patrice Donnelly.
Watch On: HBO, Amazon Prime, Vudu, iTunes, Google Play, YouTube
HIGH ART (1998) +
Directed by Lisa Cholodenko and starring Ally Sheedy and Radha Mitchell, HIGH ART is based on photographer Nan Goldin's life and work and premiered to rave reviews at the 1998 Sundance Film Festival. "A young female intern at a small magazine company and a drug-addicted photographer slowly fall in love while exploiting each other to advance their respective careers."
Explore some of Nan Goldin's amazing photography: http://www.artnet.com/artists/nan-goldin/
Watch On: Amazon Prime, Vudu, iTunes, Google Play, YouTube
THREE OF HEARTS (1993)
Yikes! There's some offensive stuff here, but it's a ridiculous throw back and that cast: William Baldwin, Kelly Lynch, Sherilyn Fenn, Joe Pantoliano.. Plus that tagline, "Just your average girl meets girl, girl loves girl, girl hires boy to get girl back story.
Watch On: Amazon Prime, Vudu, iTunes, Google Play, YouTube
ATOMIC BLONDE (2017)
"An undercover MI6 agent is sent to Berlin during the Cold War to investigate the murder of a fellow agent and recover a missing list of double agents." Controversial, we know, many have accused the film of being exploitative, but many have embraced the action film. Actor Charlize Theron has said about her characters bisexuality, "I just loved it, for so many reasons: My frustration of how that community is represented in cinema, or lack thereof. And also, it made perfect sense. It just suited her."
Watch On: Hulu, Vudu, Google Play, YouTube
T
TANGERINE (2015) * # +
Sean Baker is one of our favorite contemporary directors on the Sidewalk programming staff, and we opened the 2015 SHOUT festival with this beautiful verite comedy, shot by Baker on an iPhone (or really several iPhones). It follows two trans sex workers, Alexandra and Sin-Dee (dynamite performances from both Mya Taylor and Kitana Kiki Rodriguez), on one sunny Christmas Eve in Los Angeles; when Alexandra spills the news that Sin-Dee's boyfriend is cheating on her with a cisgendered woman, she goes on the warpath to find them both.
Watch On: Hulu, Sling TV, Amazon Prime, Vudu, Google Play, YouTube, iTunes
TOMBOY (2011) +
From director Céline Sciamma (PORTRAIT OF A LADY ON FIRE): "A family moves into a new neighborhood, and a 10-year-old named Laure deliberately presents as a boy named Mikhael to the neighborhood children." TOMBOY was a nominee for Outstanding Film at the 2012 GLAAD Media Awards and winner of the Teddy Award at the 2011 Berlin International Film Festival.
Watch On: Amazon Prime, Vudu, Google Play, iTunes
GUN HILL ROAD (2011) + /
Directed by Sidewalk/Shout alum Rashaad Ernesto Green. "An ex-con returns home to the Bronx after three years in prison to discover his wife estranged and his child exploring a gender transformation that will put the fragile bonds of their family to the test."
Watch On: Amazon Prime, Vudu, Google Play, iTunes, Tubi, YouTube
HEDWIG AND THE ANGRY INCH (2001) +
It all began as an off-Broadway musical in 1997, which got its start via live band karaoke nights. Off-Broadway HEDWIG AND THE ANGRY INCH quickly achieved "cult status and critical acclaim" which then led writer/director/star John Cameron Mitchell to parlay such success into a feature film version of the narrative. "A transgender punk-rock girl from East Berlin tours the U.S. with her band as she tells her life story and follows the former lover/band-mate who stole her songs." A historically relevant piece of trivia: The original off-Broadway production of HEDWIG started in the ballroom of The Hotel Riverview (now The Jane), a space that once gave shelter to the surviving crew of the Titanic in 1912. For this reason the film features Titanic imagery throughout.
Here's a fun "10 Things You Didn't Know" article about the film: https://www.stlmag.com/culture/theater/10-things-you-didn-t-know-about-hedwig-and-the-angry-inch/
Watch On: HBO, Hulu, Amazon Prime, Vudu, Google Play, iTunes, YouTube
THE WORLD ACCORDING TO GARP (1982)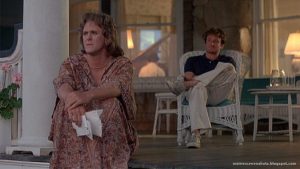 This is a bit of an odd one to hit the list and the content is minor, but important all the same. Based on the 1978 novel by John Irving, "A struggling young writer finds his life and work dominated by his unfaithful wife and his radical feminist mother, whose best-selling manifesto turns her into a cultural icon." John Lithgow co-stars as transgender former football player Roberta Muldoon, a role for which he was received a Best Supporting Actor nomination at the 55th Academy Awards. According to GLADD, the character "Roberta is considered by many to be one of the first sympathetic transgender characters in a film made for a mass audience." Lithgow has stated, Roerta is "a person who is utterly unaffected, she feels more herself than she's ever been and, in that sense, it was revolutionary."
Here's an article from the Paris Review, looking back at THE WORLD ACCORDING TO GARP with a 40-year perspective: https://www.theparisreview.org/blog/2019/08/23/garp-forty-years-later/
Watch On: Amazon Prime, Vudu, Google Play, iTunes, YouTube
T Documentaries:
CALL HER GANDA (2018)  * +
In 2014, Jennifer Laude, a transgender Filipina woman, was found murdered, and all evidence pointed to a young U.S. serviceman as the culprit. The subsequent trial had international repercussions, rocking the relationship between America and the Philippines and sparking protests over transphobia and the neo colonial mindset of the U.S. military. This shocking documentary examines the impunity with which American soldiers are permitted to behave in the Philippines — for which the trans community has paid a heavy and tragic toll.
Watch On: Amazon Prime, Google Play, YouTube
MAN MADE (2018) * +
Welcome to the world of competitive bodybuilding for transgender men, where a resilient community competes, builds each other up, and works towards self-actualization. We follow four trans men in their challenging journeys to competition day; seeing how their relationships, self-image, and bodies change as they work towards their goals. MAN MADE is truly a moving look into this competitive, yet nurturing and accepting world.
Watch On: Amazon Prime, Google Play, YouTube
KIKI (2016) * +
Sara Jordenö's striking documentary follows several members of the Kiki scene, New York's gay ballroom movement, one that is composed of a complicated system of teams or "houses" that compete in voguing competitions for cash and bragging rights. However, as the documentary explores, the Kiki scene isn't just about dance competitions (though with such talent and enthusiasm that might be enough), but, at its heart, is about companionship, protection, activism and chosen family. Touring through New York gymnasiums, rec centers, bodegas and piers, Kiki is visually stunning and truly represents the landscape that is the birthplace of the scene. The documentary offers the enjoyment of ballroom alter egos, extravagant costumes, and moments of hilarious snark, but also reminds us that HIV/AIDS is not a thing of the past and the concerns facing transgender teens, especially those who are non-white, remain mostly unheard.
Watch On: Hulu, Amazon Prime, Google Play, YouTube, Vudu, iTunes
BOY I AM (2006)  * +
"While female-to-male transgender visibility has recently exploded in this country, conversations about trans issues in the lesbian community often run into resistance from the many queer women who view transitioning as a "trend" or as an anti-feminist act that taps into male privilege. BOY I AM is a feature-length documentary that begins to break down that barrier and promote dialogue about trans issues through a look at the experiences of three young transitioning FTMs in New York City – Nicco, Norie and Keegan – as they go through major junctures in their transitions, as well as through the voices of lesbians, activists and theorists who raise and address the questions that many people have but few openly discuss."
Watch On: Kanopy
THE DEATH AND LIFE OF MARSHA P. JOHNSON (2017) * +
Marsha P. Johnson was a leading transgender activist in the 1980s: present at the Stonewall Riots alongside Sylvia Rivera. Her death rocked the New York LGBT activist scene, with many of her peers skeptical of the NYPD's ruling that she committed suicide. In this gripping documentary, we follow activist Victoria Cruz as she tries to solve the mystery of Marcia's death. David France, the director of HOW TO SURVIVE A PLAGUE, brings us this riveting film that's part tribute, part whodunit, and part call-to-action.
Here's a link to the Marsha P. Johnson Institute: https://marshap.org/about-mpji/
Watch On: Netflix
MY PRAIRIE HOME (2013) * +
With only an acoustic guitar and a laptop, transgender singer/songwriter Rae Spoon embarks on a modest tour across the vast and blue-skied plains of Canada, facilitated by Greyhound buses and generic motel rooms. Delicately observed through Spoon's contemplative moments, MY PRAIRIE HOME takes an impressionistic approach to its subject, thwarting the expectations of a traditional music documentary. The film poetically weaves together Spoon's personal history of an evangelical household back in Alberta, a troubled family life, and a forbidden first love – all of which left indelible marks on their lyrics and are brought to life through playful, music-video–like visual sequences. Within the first moments of the film, director Chelsea McMullan visually cues the audience to subvert its expectations, preparing us to spend intimate time with her subject, who sees the world in their own way. A particular joy comes from delving into an artist's world of music and musings; discovering Rae Spoon is this film's biggest reward.
Here is Rae Spoon's website: http://www.raespoon.com/
Watch On: iTunes
We Know, We Know:
PARIS IS BURNING (1990)  +
Another famous, but problematic, for many, film – most notably because the director is a white, cisgender, queer woman – Jennie Livingston. "A chronicle of New York's drag scene in the 1980s, focusing on balls, voguing and the ambitions and dreams of those who gave the era its warmth and vitality." PARIS IS BURNING won the Outstanding Documentary Film at the 1992 GLAAD Media Awards and the prestigious Documentary Grand Jury Prize at the 1991 Sundance Film Festival. The film is also part of the Criterion Collection.
Watch On: iTunes, Criterion Blu-ray and DVD
THE ADVENTURES OF PRISCILLA QUEEN OF THE DESERT (1994)
PRISCILLA QUEEN OF THE DESERT ends up on almost every annual pride list. "Two drag performers and a transgender woman travel across the desert to perform their unique style of cabaret." There are numerous problematic elements, including in the film's credits. PRISCILLA QUEEN OF THE DESERT is covered in awards, including the 1995 Academy Award for Best Costume Design, the1995 GLAAD Media Award for Outstanding Film and Outstanding Narrative Feature at Outfest 1995.
Watch On: Google Play, YouTube, Vudu, iTunes
BOYS DON'T CRY (1999) +
One of the most famous transgender relevant films of all time, it is important to note that BOYS DON'T CRY features a great deal of violence and trauma and has been accused of being transphobic by some. Director Kimberly Peirce is genderqueer and BOYS DON'T CRY evolved from a short film that was Peirce's thesis project at Columbia University. "A young man named Brandon Teena navigates love, life, and being transgender in rural Nebraska."
Watch On: HBO, Hulu, Amazon Prime, Google Play, YouTube, Vudu, iTunes
BEFORE STONEWALL (1984)  +
Another classic that hits all the annual lists, "The history of the Gay and Lesbian community before the Stonewall riots began the major gay rights movement."
Watch On: Amazon Prime, iTunes
Q
RAW (2016) +
Queer horror! Once again, a lot to unpack! "A young woman, studying to be a veterinarian, develops a craving for human flesh." RAW is clearly influenced by director Abel Ferrara's 1995 film THE ADDICTION starring Lili Taylor, Christopher Walken and Annabella Sciorra – which could also make this list and would make a great double feature with RAW.
Watch On: Google Play, YouTube, Vudu, iTunes, Amazon Prime
A GIRL WALKS HOME ALONE AT NIGHT (2014)  +
Like the film's director, Ana Lily Amirpour, A GIRL WALKS HOME ALONE AT NIGHT is hard to pin down, it has been described as ""the first Iranian Vampire Western", it's also been referred to as a "noir, spaghetti western",  "Iranian New Wave", "pulp", "trans-national", ""political", feminist-romantic." Ambiguous, unique, daring, visionary. Here's a great, short article from Bitch Media: https://www.bitchmedia.org/a-girl-walks-home-alone-at-night-feminist-film-review-farsi-iran
Watch On: Google Play, Sling TV, YouTube, Vudu, iTunes, Amazon Prime
SHIRLEY (2020)  + /
Sidewalk alum, director Josephine Decker's fifth narrative feature focuses on a particularly complicated era in author Shirley Jackson's interesting life. "A famous horror writer finds inspiration for her next book after she and her husband take in a young couple." Decker is also the co-director of the 2008 documentary BI THE WAY
Here's a New Yorker article on Shirley Jackson: https://www.newyorker.com/magazine/2016/10/17/the-haunted-mind-of-shirley-jackson
Watch On: Hulu, Google Play, YouTube, Amazon Prime
BLACK SWAN (2010)
"A committed dancer struggles to maintain her sanity after winning the lead role in a production of Tchaikovsky's "Swan Lake"." This ones complicated – dual personalities, good vs. evil, doppelgangers and sex with a nemesis. How queer is BLACK SWAN? – the verdict is out.
Here's a fun article on the (controversial) costumes from the film: https://www.vanityfair.com/hollywood/2011/01/from-sketch-to-still-the-visual-history-of-rodarte-in-black-swan
Watch On: Google Play, YouTube, Amazon Prime, Vudu, iTunes
NEON DEMON (2016)
An early Indiewire headline says a lot: "The Neon Demon's First Reactions: Walkouts, Yelling at the Screen and a Five-Star Review in Cannes". "An aspiring model, Jesse, is new to Los Angeles. However, her beauty and youth, which generate intense fascination and jealousy within the fashion industry, may prove themselves sinister." Please note The Washington Times called NEON DEMON "depraved" and even used the word "smut" and the New York Times branded it "puerile" and "offensive."
Here's a cool article on sets from the film: https://filmandfurniture.com/2016/10/neon-demon-film-sets/
And a pretty hilarious article on the directors (Nicolas Winding Refn) commentary track on the film: https://filmschoolrejects.com/commentary-the-neon-demon-b0e2a75f0c6f/
Watch On: Google Play, YouTube, Amazon Prime, Vudu, iTunes
AXOLOTL OVERKILL (2017) * +
Set against the backdrop of wild Berlin, a troubled young teenager struggles to cope after the death of her mother. Unsupervised and undisciplined, she drifts in and out of relationships, testing her emotional and sexual limits. Shown through tense, occasionally humorous, and otherworldly vignettes, Axolotl Overkill offers a female perspective on the angsty self-destructive anti-hero. Director Helene Hegemann adapts the screenplay from her own novel. The title references the unusual lifecycle of an axolotl, an amphibian that reaches maturity without metamorphosis.
Watch On: Google Play, YouTube, Amazon Prime, Vudu
SUSPIRIA (2018)
More of a reimaging than a remake, there are a lot of mixed feelings about SUSPIRIA 2018. This film also contains a great deal of violence, but… Tilda Swinton has the strangest crush on Dakota Johnson so it makes the list. Trigger warning through the roof – Dakota Johnson has claimed that the intensity of the shoot led her to seek therapy. "A darkness swirls at the center of a world-renowned dance company, one that will engulf the artistic director, an ambitious young dancer, and a grieving psychotherapist. Some will succumb to the nightmare. Others will finally wake up."
Watch On: Google Play, YouTube, Amazon Prime, Vudu
BOOKSMART (2019)
We love Olivia Wilde's feature debut at Sidewalk. And it's streaming on Hulu, so if you haven't gotten on board with this brilliant comedy yet, now's the perfect time. It follows two overachieving high school seniors (Beanie Feldstein and Kaitlyn Dever) who, on the verge of graduation, try to pack all the partying they never did into one wild night. Mayhem ensues.
Here's a fun article on the film's costumes: https://www.vox.com/the-goods/2019/5/30/18645970/booksmart-movie-olivia-wilde-beanie-feldstein-costumes
Watch On: Hulu, Google Play, YouTube, Amazon Prime, Vudu
SKATE KITCHEN (2018) * +
THE WOLF PACK (Sidewalk 2015) director, Crystal Moselle's narrative debut, SKATE KITCHEN stylishly conveys the story of outsider Camille who makes fast friends with a group of fellow skateboarders. Similar to the backstory regarding THE WOLF PACK, Moselle randomly met the core cast of non-actors on a train. She enlisted them for a short film, expanding the relationship for SKATE KITCHEN.  A candid urban coming-of-age tale, the film also explores the challenges faced by young women moving within unavoidable male-centric spaces and the incredible importance of female friendship in modern America. The new HBO series BETTY was created by Moselle, based on SKATE KITCHEN and includes most of the cast of the original film.
Here's the actual Skate Kitchen's Instagram: https://www.instagram.com/theskatekitchen/?hl=en
Watch On: Hulu, Google Play, YouTube, Amazon Prime, Vudu
THE HUNGER (1983)
"A love triangle develops between a beautiful yet dangerous vampire, her cellist companion, and a gerontologist." Starring Catherine Deneuve, Susan Sarandon and David Bowie and featuring Bauhaus!
Watch On: HBO, Google Play, YouTube, Amazon Prime, Vudu, iTunes
MY OWN PRIVATE IDAHO (1991)  +
Directed by Gus Van Sant, "Two best friends living on the streets of Portland as hustlers embark on a journey of self discovery and find their relationship stumbling along the way." Very loosely based on Shakespeare's Henry IV, Part 1, Henry IV, Part 2, and Henry V and starring River Phoenix and Keanu Reeves, MY OWN PRIVATE IDAHO is considered a landmark film in the 1990s New Queer Cinema movement. Van Sant had great trouble getting the film financed and Phoenix and Reeves agreed participation is what led to the film being made. River Phoenix's agent initially refused to pass the script along to his client so Keanu Reeves rode his motorcycle from Canada to Gainesville, Florida (Phoenix's hometown) to hand deliver the script and convince his friend to star.
Watch On: Google Play, YouTube, Amazon Prime, Vudu, iTunes
KNIVES AND SKIN (2019) * +
A Sidewalk 2019 selection. Big River is living in the shadow of missing teenager Carolyn Harper. Haunted and sad, the town is stuck in a chaotic funnel cloud of grief and looming doom. It's easy to draw comparisons to TWIN PEAKS and DONNIE DARKO and even RIVERDALE, along with vibes of the original "Serial" podcast, yet KNIVES AND SKIN is wholly original — beautiful and gross, feminine and androgynous, hopeless and joyous and brutally relevant in its poetic investigation of a doomed world.
Watch On: Hulu, Google Play, YouTube, Amazon Prime, Vudu
A Few PG Selections
LOVE, SIMON (2018)
PG-13
An adaptation of the book Simon vs. The Homosapiens Agenda, LOVE, SIMON is the first film to feature a gay teenage main protagonist produced by a major Hollywood studio. "Simon Spier keeps a huge secret from his family, his friends and all of his classmates: he's gay. When that secret is threatened, Simon must face everyone and come to terms with his identity."
Watch On: Google Play, YouTube, Amazon Prime, Vudu
FAR FROM HEAVEN (2002)  +
PG-13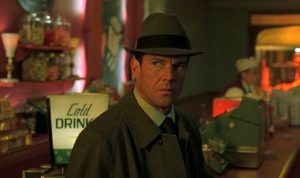 Perhaps the most pristine cinematography on the list – directed by Todd Haynes, "In 1950s Connecticut, a housewife faces a marital crisis and mounting racial tensions in the outside world." The film "explores race, gender roles, sexual orientation, and class in the context of 1950s America." FAR FROM HEAVEN shows the heavy influence from the work of Douglas Sirk, most notably the amazing ALL THE HEAVEN ALLOWS.
Watch On: Hulu, Sling TV, Google Play, YouTube, Amazon Prime, Vudu, iTunes
ORLANDO (1992)  +
PG-13
Loosely based on Virginia Woolf's 1928 novel "Orlando: A Biography": "after Queen Elizabeth I commands him not to grow old, a young nobleman struggles with love and his place in the world."
Watch On: YouTube, Amazon Prime, Vudu, iTunes, Google Play
3 GENERATIONS (2015)
PG-13
"After Ray decides to transition from female to male, Ray's mother, Maggie, must come to terms with the decision while tracking down Ray's biological father to get his legal consent."
Watch On: Netflix, YouTube, Amazon Prime, Vudu, iTunes, Google Play
PICNIC AT HANGING ROCK (1975)
PG
"During a rural summer picnic, a few students and a teacher from an Australian girls' school vanish without a trace. Their absence frustrates and haunts the people left behind."
Watch On: HBO, YouTube, Amazon Prime, Vudu, iTunes, Google Play
HEARTS BEAT LOUD (2018) * +
PG-13
Nick Offerman plays a widower and career record storeowner whose daughter, played by the amazing Kiersy Clemons, is gearing up to start school across the country. After a song that they record as a goof goes viral, Offerman tries to persuade his daughter to form a band, both to satisfy a lifelong dream of his own and to hold on to the one lasting relationship in his life. Featuring extremely likeable original songs and a great supporting cast (Ted Danson plays a bartender!), HEARTS BEAT LOUD truly earns its reputation for being a heart-warming crowd pleaser.
Watch On: Hulu, YouTube, Vudu, Google Play
THESE FILMS ARE SO IN THE CLOSET
Each one of the following film descriptions could start with "come on". The gay content is barely hidden and/or it would be a way more interesting film if the gay content were more prevalent or overt, because gosh darn it's there!
LITTLE DARLINGS (1980)
A little summer camp fun – Ferris and Angel have a competition to see which of the two can loose their virginity first. Kristy McNichol plays Ferris who, in the opening scene, in the butchest manner possible, pulls a cigarette from a rolled-up sleeve and racks a dude who tries to talk to her and Angel is played by an at-her-most- androgynous Tatum O'Neil – there's even a fedora. The sexual tension between the two young women is off the charts and culminates into a strangely erotic food fight in which Angel rubs pancakes slowly on Ferris' ches. Plus the film ends with a very suggestive "best friend" reference. Oh and side note: Matt Dillon has never been as pretty.
Watch On: Tubi, Amazon Prime, Vudu
PRETTY IN PINK (1986)
As acknowledged at our recent drive-in screening of PRETTY IN PINK, Steff clearly has a crush on Blaine, hence his issue with Andie – there's really no other explanation for his douchey behavior. Also Duckie is clearly gay (but yet in love with Andie), even Molly Ringwald has publicly noted such.
Watch On: HBO, Amazon Prime, Vudu, iTunes, Google Play
OCEAN'S 8 (2018)
Lou (Cate Blanchett) and Debbie (Sandra Bullock) are clearly a couple – all the references and hints are right there. Plus Lou's name is Lou – that smoky eye, that blue suit, the leather pants and all those vests, come on! OCEAN'S 8 is also a lot more fun to watch with this read of the characters.
Here's a Vice article titled "Every Outfit Cate Blanchett Wore in 'Ocean's 8' Made Me Gayer": https://www.vice.com/en_us/article/7xm7ee/cate-blanchett-oceans-8-fashion-gay
Watch On: Amazon Prime, Vudu,YouTube, Google Play
PERSONAL SHOPPER (2016) +
I don't know about you, but I can watch Kristin Stewart text with a ghost for days… "A personal shopper in Paris refuses to leave the city until she makes contact with her twin brother who previously died there. Her life becomes more complicated when a mysterious person contacts her via text message." Fun trivia – one of the dogs in the film is named Bella, a TWILIGHT reference for those in the know. According to howgayisit.com: "There is no evidence for the protagonist of this movie being gay other than the fact that she is played by Kristen Stewart which is evidence enough."
Watch On: Amazon Prime, Vudu, YouTube, Google Play, iTunes, Sling TV
REBEL WITHOUT A CAUSE (1955)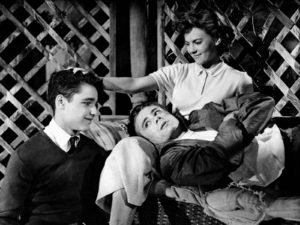 For one the character Plato is so obviously gay. It has been said that James Dean was very much in the know regarding such and supposedly told Plato actor Sal Mineo, prior to filing a scene at the abandoned Getty Mansion, "Look at me the way I look at Natalie." Actor Sal Mineo was gay and, of course, James Dean was rumored to be bi-sexual. REBEL WITHOUT A CAUSE is also a study of American male masculinity, making the film mulit-layered and incredibly interesting, especially considering the casting.
Here's a brief article and video on "What Makes "Rebel Without A Cause" Such A Gay Classic?": http://www.newnownext.com/what-makes-rebel-without-a-cause-such-a-gay-classic/07/2016/
And here's a paper titled ""What it Takes to Be a Man": A Comparison of Masculinity and Sexuality in Rebel without a Cause and River's Edge": https://digitalcommons.ric.edu/cgi/viewcontent.cgi?article=1030&context=honors_projects
Watch On: Hulu, HBO, Amazon Prime, Vudu, Google Play, iTunes, Sling TV
HIGHER LEARNING (1995)
Well, it's not exactly in the closet, but the lesbian storyline is by far one of the strongest threads of the film and yet one of the most brief. Such wasn't the original intent of the production, HIGHER LEARNING "was heavily cut upon its release, eliminating much of the romantic relationship between Taryn (Jennifer Connelly) and Kristen Connor (Kristy Swanson)". Synopsis: "People from all different walks of life, encounter racial tension, rape, responsibility, and the meaning of an education on a university campus."
Watch On: Amazon Prime, Vudu, Google Play, YouTube
FRIED GREEN TOMATOES (1991)
Perhaps the most outrageously in the closet from this list! Idgie and Ruth are clearly a couple. A lesbian relationship between Ruth and Idgie does, of course, take place in Alabamian (and out lesbian) Fannie Flagg's novel from which the film is based. Actors Mary-Louise Parker and Mary Stuart Masterson along with, Fannie Flagg were all strong advocates for depicting the lesbian relationship between Ruth and Idgie in the film. Director, Jon Avnet, and the films producers, however, decided to cut such and make the characters just friends. Avnet has said that he considers the food fight scene "as an analogy for a love scene between the two that he chose not to include". Bummer.
Watch On: Hulu, Sling TV, Starz, Amazon Prime, Vudu, Google Play, iTunes, YouTube
TOP GUN (1986)
You've heard the theory… there's certainly enough there to make for a very dangerous drinking game. Here's Quentin Tarantino (ugh) – as Sid in the film SLEEP WITH ME – laying it all out (beware lots of language NSFW): https://www.youtube.com/watch?time_continue=1&v=NzY9a-WmE6o&feature=emb_logo
Of course there are plenty of other videos out there making pretty strong cases. Still don't buy it… The fact that star Kelly McGillis is an out lesbian and looks really amazing in a bomber jacket also helps the film make the list.
Watch On: Amazon Prime, Vudu, Google Play, iTunes, YouTube, Sling TV, fuboTV, Philo, AMC
A SIMPLE FAVOR (2018)
Paul Feig goes big, broad and melodramatic with this comic thriller that subtly lampoons the "missing white woman" subgenre of airport fiction while indulging in its most enjoyable tropes. A fantastic Blake Lively stars as the mysterious woman who goes missing; her friend (Anna Kendrick) then devotes her time to discover the truth about her disappearance while also suspiciously starting to adopt her lifestyle. This thing twists and turns like you won't believe. The queer/bi-sexual content is minimal, but the tension is high and dang Blake Lively looks good in a tux – regardless this one confirms that all romantic relationships are pretty stupid anyway.
Watch On: Hulu, Amazon Prime, Vudu, YouTube, Sling TV
SOME KIND OF WONDERFUL (1987)
A two-second look at Watts (played by Mary Stuart Masterson – and, yes, the characters name is Watts) and you'll see why everyone is so confused if you didn't already. SOME KIND OF WONDERFUL is basically a role reversal of PRETTY IN PINK with Watts as the Duckie, so, of course, she's clearly queer. There's zero chemistry between Keith Nelson (Eric Stoltz) and Amanda Jones (Lea Thompson) and we're all secretly wishing Watts and Amanda would just run off together and leave Keith with his own weird attempt to buy a hot girlfriend.
Watch On: HBO, Amazon Prime, Vudu, Google Play, YouTube, PlutoTV
A NIGHTMARE ON ELM STREET 2: FREDDY'S REVENGE (1985)
Called "the Gayest Horror Film Ever Made" and that's saying a lot… Here's a Buzz Feed article regarding just how gay the second NIGHTMARE is: https://www.buzzfeednews.com/article/louispeitzman/the-nightmare-behind-the-gayest-horror-film-ever-made
Watch On: HBO, Amazon Prime, Vudu, YouTube, iTunes, Google Play
A NIGHTMARE ON ELM STREET 2 star Mark Patton is also profiled in the documentary SCREAM QUEEN! MY NIGHTMARE ON ELM STREET, which focuses on just how gay the film is and how such impacted Patton's life as a once Hollywood closeted and then later out gay man. SCREAM QUEEN! was the 2019 Shout Opening Night selection.
Watch On: Amazon Prime, Vudu, YouTube, Google Play
WONDER WOMAN (2017)
Just how queer is Wonder Woman? Where to begin?… She was born on the female-only paradise island of Themyscira. Wonder Woman comic book writer Greg Rucka has stated, "Wonder Woman must be queer", "it makes no logical sense otherwise" and has further said, "Themyscira is a queer culture. I'm not hedging that". William Moulton Marston, Wonder Woman's original creator, was an "outspoken feminist, swinger, S&M practitioner, and firm believer in the superiority of women". The original Wonder Woman comic was accused of containing "lesbian imagery". Marston's partners and inspiration Elizabeth and Olive continued to live together as a couple for 38 years after his death, until Olive passed away in 1985. The new WONDER WOMAN 1984 poster is drenched in rainbow colors and "Screams 'Gay Rights". The list goes on. DC Universe, please let Wonder Woman out of the closet!
Watch On: HBO, Amazon Prime, Vudu, YouTube, iTunes, Google Play
ROUGH NIGHT (2017)
Another, it's not fully in the closet, but could do better – "Things go terribly wrong for a group of girlfriends who hire a male stripper for a bachelorette party in Miami." The LGBTQ content: central characters Frankie (Ilana Glazer) and Blair (Zoë Kravitz) have a romantic relationship in their history and this minor storyline is weaved into the films narrative, along with a couple of additional moments (no spoilers). ROUGH NIGHT would be much stronger with a more substantial storyline. We should add – Kate McKinnon stars!
Watch On: Amazon Prime, Vudu, YouTube, iTunes, Google Play
BIRDS OF PREY: AND THE FANTABULOUS EMANCIPATION OF ONE HARLEY QUINN (2020)
Okay, it's not really in the closet, it's there, but the film would be improved with more focus on the LGBTQ text and subtext and by avoiding some of the stereotypes. If you didn't already know, BIRDS OF PREY is a superhero film based on the DC Comics team "Birds of Prey" and it stars Margot Robbie. "After splitting with the Joker, Harley Quinn joins superheroes Black Canary, Huntress and Renee Montoya to save a young girl from an evil crime lord." While the character Harley Quinn is established as bisexual during an opening narrated animation, she still spends too much of the film going on about the Joker. Detective Renee Montoya is a lesbian and villain Black Mask is presumably gay, plus the film has a feminist lean. The content is getting there, but it could be better – all that said it's a more out mainstream superhero film than others.
Watch On: Amazon Prime, Vudu, YouTube
JOHNNY GUITAR (1954)
Joan Crawford stars as a stubborn saloon owner threatened by gossipmongering locals in this 1954 Western classic from director Nicholas Ray. Only the arrival of mysterious loner Johnny Guitar (Sterling Hayden) can take some of the heat off — but not much, as what makes this movie remarkable is how independent and vibrant its female characters are. It's not unusual to see gay undertones in the Western genre, heck that's part of what makes BROKEBACK MOUNTAIN work so well – the undertones are brought to the surface. In most Westerns, women threaten men's unbridled freedom as they roam the American landscape looking tough and women are helpless or simply secondary. JOHNNY GUITAR is an exception with the one and only Joan Crawford taking on the stereotypical male role as lesbian overtones abound.
Watch On: Hulu, Amazon Prime, Vudu, YouTube, Google Play, Sling TV