HAVEN'T BECOME A SIDEWALK MEMBER YET? IT'D BE A LOT COOLER IF YOU DID DURING OUR MEMBERSHIP DRIVE, APRIL 26TH – MAY 9TH!
Sidewalk Memberships are a great way to help support us year-round. Membership purchases help fund a number of efforts toward Sidewalk's mission of bringing independent film to Birmingham, including new educational programs, Cinema programming, Sidewalk Home Video, and of course the annual Sidewalk Film Festival.
Our memberships start at just $75/year. The membership levels are listed here and include tons of benefits including discounts on tickets, passes, and merchandise; plus access to exclusive Members-Only events!
This year, all new members who join during the Membership Drive will receive a Dazed and Confused-themed koozie and t-shirt. T-shirts are unisex and come in S – 4XL, please put your size in the comment box when checking out.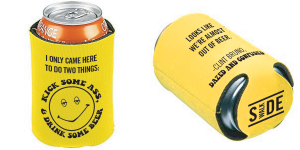 Everyone who chooses to become a member at the Art Department level ($250) or above during the Membership Drive will also receive this rad cooler.
The t-shirt and cooler are for members only and will not be available for purchase on our merch site.
To become a member today, visit the membership page of our website.